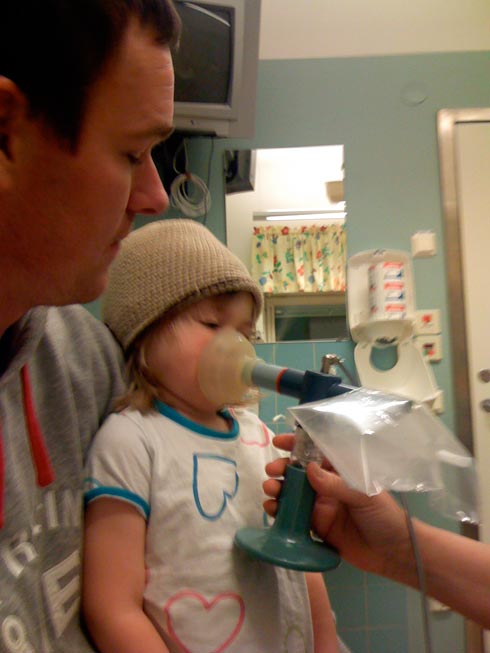 At 00:30 this monday morning me and my girlfriend woke up to the sound of our 3 year old daughter Ebba having a lot of trouble breathing. Only minutes later me and Ebba were driving as fast as I could to the hospital. On my way to the hospital I dialed 112 (911) to get some assistance if Ebba would stop breathing. Luckily as we were Ebba's breathing became easier and I could slow down a little bit.
As we arrived to Astrid Lindgrens Children Emergency Hospital I dialed our home-number to inform my girlfriend that our daughter was out of immediate danger. However, the hospital had blocked calls from mobiles inside the building. Hmm, checked the iPhone, wow. A free wlan. Instead of calling I wrote an email saying Ebba was alright and I would get back later. I got a quick answer from my girlfriend who had been sitting searching online for information about what had happened to Ebba.
A nurse put us inside a room at the hospital. Right after the doctor then came in to the room. It didn't take him long to give Ebba the diagnose False Croup. He now told us that we needed to stay for at least 2 hours. Ebba was to be treated with adrenaline and cortisone. As the doctor left the room I tapped Safari on my iPhone and visited Netdoktor to learn more about the decease. The nurse came back only minutes later to give us more information about the treatment. By then I was fully updated on what False Croup meant for Ebba and what kind of treatment she would get. It felt good to have a "second opinion".Ebba now had to spend a minute breathing the adrenaline. While she did that I did a quick search on Youtube and minutes later Ebba was a happy girl. Dora, Winnie the Pooh, Donald Duck, Pixar Short movies and more kept me and Ebba occupied.
Almost 3 hours later at 04:00 in the morning we were sent home. Ebba still happy but of course tired.
Learnings: iPhone puts the internet in our pocket in a way that no other phone does. Everything we are used to having close by when we sit in front of a computer will become accessible from our mobiles. And when we have Turbo 3G in that same phone…we'll see a shift in the way we use mobile internet. That shift will be more impactful than anything we have ever witnessed.
Learning and remembering information is no more.
Learning and remembering how to search for information is everything.