The Institute for the Future in Palo Alto decided to give a go at the future. How? A game of course. Superstruct is the world's first massive multiplayer forecasting game. The game, launched in october 2008, was constructed and launched by Jane McGonigal.
By playing the game, people help The Institute for Future chronicle the world of 2019 – and imagine how the human kind might solve the problems we'll all face together. It's obviously needed as the horizon for survival in the game right now is 2042 according to this special report.

Jane is a pretty cool chick and an expert on applying game design and game theory to real work and real business. Among other credits MIT Technology Review named her one of the top 35 innovators changing the world through technology, for her role in pioneering the field of alternate reality gaming.
Think about it! What good could a gaming scenario do for the future of your business? Maybe that's where you should put your money?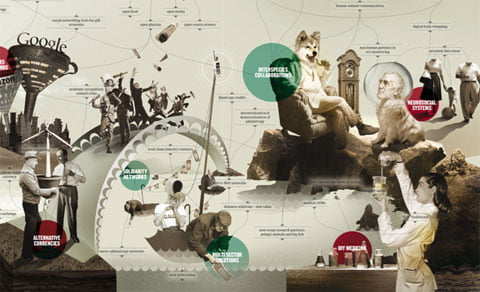 If you think this post is a little bit over the nerd hurdle, then at least have a look at the wonderful visualization of this future world made by Density Design. Creative Director Donato Ricci, Concept developer Gaia Scagnetti, Visualizer Mario Porpora, Artist Michele Graffieti and Designer Luca Masud set out to solve the complex task of bringing the 2019 vision created in the game to life. Their result can be downloaded from Flickr. And it's uploaded in a great quality, so any company with an office space big enough should get it and redecorate their walls asap.
ps. One last tip on how to keep up with the future. The Institute for the Future runs a pretty nice blog on the subject.