We're four days into 2011 and I'm in Tandådalen, a Swedish ski resort, skiing. Before heading out to rips some snow I thought I'd update the blog with my latest venture. 6 days from now I'm kick-starting my latest company – JAJDO.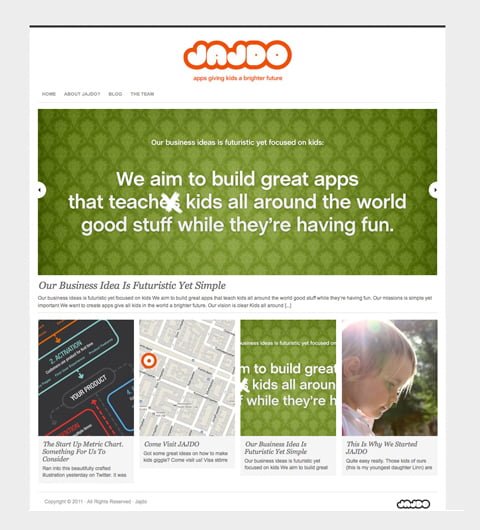 Sometime last summer after having seen my two daughters rock the iPad an idea started to take shape inside my head – what If I could make a living doing things my daughters and other kids around the world would love. What If I could make a living doing that while teaching kids things that helped them get through life? I have to do this!
Said and done. I immediately called good friend and 'out of this world' developer Andreas Wålm. Seconds into the call Andreas answered – I'm in! Then I thought – "who would be the best designer?" – the first name that came to mind was Jonas Theder, digital design guru, illustrator and also a good friend. We met for lunch a sunny day in Stockholm – Jonas smiled widely and said – I'll do it! JAJDO was born.
JAJDO will be based in Sweden but will launch apps globally. We'll aim to create, develop and launch the worlds best teaching games aimed at kids 0-7 years old. We'll translate and localize em' for all open app markets in the world. During the year you can follow JAJDO on the JAJDO website or on Twitter.
Except for taking on speaking assignments I'll focus on building JAJDO during first quarter of 2011. Then from the end of April I'll start taking on selected branding and communication assignments again.
2011 will be a blast!