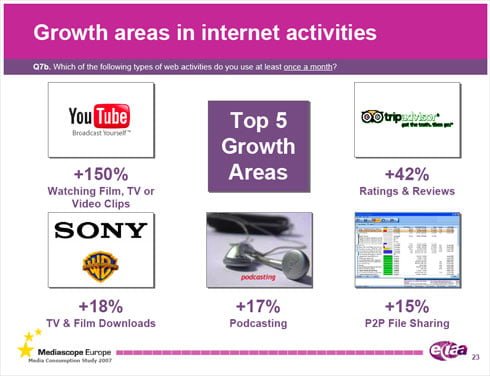 I'm in Spårvagnshallarna on a MSN Innovate semiar i Stockholm, Sweden.
There's this woman presenting two interesting reports. The first one called Mediascope Europe and the second one Online Shoppers 2008.
Some Key Findings from Mediascope Europe:
169 million people now online across 10
European markets
16-24 year olds now go online more frequently than they watch TV, for the first time (14,7 Hours Per Week)
48.5 million internet users now spend more than 16 hours a week on the web
The nordic countries provide most everyday users
Broadband penetration increases again with 8 in 10 Euro users now enjoying a high
speed connection
40% of the Europeans watch less TV because of the TV
80% of the Europeans Internet users have bought something online.
A summary of the key findings from the Online Shoppers Europe:
40% of all European online shoppers have changed their mind about which brand to buy following research on the web, highlighting the power that websites can have in the purchasing decision.
Online shoppers from more mature online markets are more likely to change their mind on what brand to buy following web research, than online consumers from less developed markets. As markets develop in online sophistication, shoppers will consume a wider variety of marketing messages and information sources to make their purchase decision which increasingly influences their brand and product choice. As a result, marketers must develop ever more effective strategies to engage with their consumers.
The web is an ever more powerful resource for consumers wishing to research a product or brand. Over half (59%) of online shoppers cite that websites of well known brands are an important source of information when researching or considering a product or service and search engines are considered more useful (76%) than personal recommendations (72%).
Marketers need to provide relevant information at the right time and in the right place online to ensure effective engagement with their consumers whilst they are in the purchase making process.
More and more shoppers are making the most of the convenience of online shopping. 80% of European internet users have bought a product or service online, up 3% since 2006 and double the 2004 figure. Online shoppers made 1.3 billion purchases in just a six month period, spending an average of €747 each
online.
There are gender differences between goods consumed by online shoppers with female shoppers focusing on clothes (40% vs. 27% of men) and holidays (46% vs. 38% of men) while their male counterparts go for electrical goods (39% vs. 27% of women) and CDs (25% vs. 20% of women. Marketers should be aware of these gender differences when developing online marketing campaigns.
Visit EIAA to download these two and other reports.