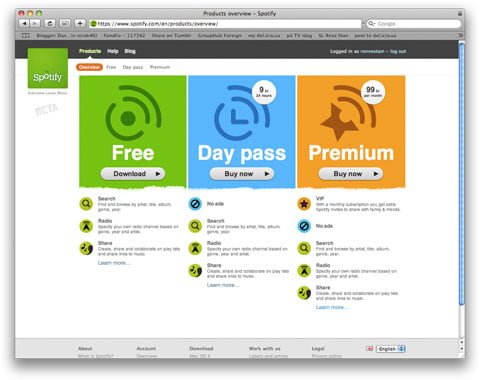 Today Swedish start-up Spotify has launched their music service that has been in Beta for quite a long time. In the morning they were spreading the news that they had signed groundbreaking licensing deals with companies including Universal Music Group, Sony BMG, EMI Music, Warner Music Group, Merlin, The Orchard and Bonnier Amigo. 
Spotify is by far the best independent music service out there. The fact that you find most music you are looking for and that you can create your own playlists, share em' etc makes it a killer application.
If you wanna get hold of the free version that features advertising you still have to stand in line for an invite. But the if you sign up for a Premium edition you get unlimited music access without advertising. On top of that, signing up for premium today allows you not only to jump the queue to get Spotify, but you will also get 2 invites to share with your friends.



I noticed the advertising in Spotify this morning when Ulf from McDonalds interupted me listening to Robyn. Not a pleasant surprise I must say. I haven't really decided if I think Spotify will get the spread it deserves if they keep on interrupting music with adversing. 999:- a year is quite a lot of money for teenagers and they're the source of spreading this thing.
But on the other hand, I've already taken the descision to sign up for a Premium myself. I would have liked to be able to pay with PayPal though.
Spotify Rocks!