Sometimes you see things you just have to share but you don't have time to write something intelligent. Tooble is one of those things.
Then you go to the 'About' section and copy/past.
Said and done:
Tooble is a brand new program designed to bring the of content on YouTube straight to your iPod. In one easy step, tooble automatically downloads, converts and imports any YouTube video to play on your video iPod, iPhone, AppleTV, or even on your computer with iTunes. Now all your favorite videos are with you and ready to play, no matter where you are.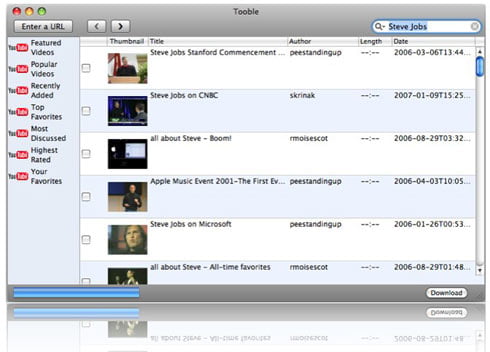 Tooble's browser lets any user search and select video from the whole of what YouTube has to offer. You can navigate using the lists of featured videos, enter a search in the search bar, or even enter in a URL you already know; tooble gives you access to everything from the elegant comfort of a simply beautiful interface. Once you have found something you like, simply check it and hit the download button- tooble takes care of the rest. Your video will then be downloaded, converted to an easily viewable mp4 format, and automatically imported into iTunes. Now all you need to do is plug in your iPod, and you'll have all the content you know and love right in your pocket.
Get it here.