I read somewhere that 'sharing is caring'. So, I thought why not start 2008 with a gift to the readers of my blog.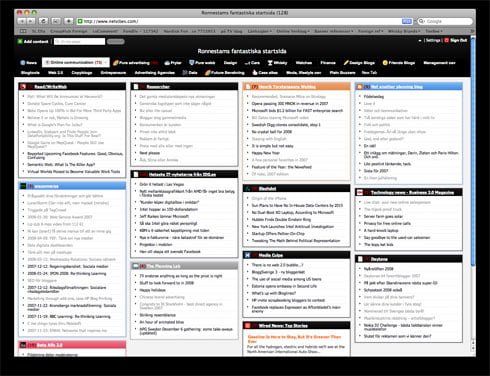 I'm using Netvibes as my startpage to keep track of things I'm interested in. My life wouldn't work without my feeds. Thanks ALL of you that spend your time writing the things I read every day.
Since I love it so much, I thought maybe you would too. So here you can download (right click to download and remove the .txt to use it) are all my feeds that I've spent quite some time finding and validating. Once downloaded, head to Netvibes and import the .OPML file. Then you're ready to start building tabs.
Feel free so send more people the link to this post if you wanna spread the Netvibes word.
If you haven't heard about it yet. Here's the short version:
Netvibes brings all your favorite RSS feeds, MySpace, Digg, YouTube, Gmail, Flickr, eBay, del.icio.us accounts – you name it (no, really, you can rename our entire site) – together on your own personal Netvibes page. You can share with your friends or colleague your favorite modules. It's 100% customizable – no ads, no logos, no corporate control
Enjoy!