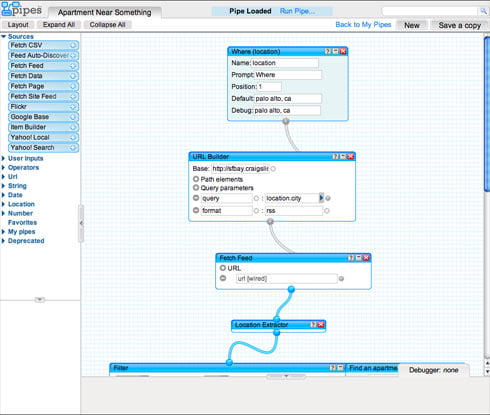 A while back I posted an open question asking for an application that could provide me with mixed RSS feeds. Well, now Yahoo has launched an ultra cool tool called Yahoo Pipes.

Pipes is basically a powerful tool that allows you to aggregate, manipulate, and mashup content from anywhere around the web. What really stands out is the posibility to sort, filter and aggregate whatever you want and feed it wherever you need.
Like Unix pipes, simple commands can be combined together to create output that meets your needs:
– Combine many feeds into one, then sort, filter and translate it.
– Geocode your favorite feeds and browse the items on an interactive map.
– Power widgets/badges on your web site.
– Grab the output of any Pipes as RSS, JSON, KML, and other formats.
This cool new feature clearly states that in the future the everyday user will be able to create whatever they want without any kind of technical expertise. Ideas will prosper – and technology will be provided by the big guys.
This is the shit (as my good friend Paul the copywriter once told me)
Build your Pipes here.