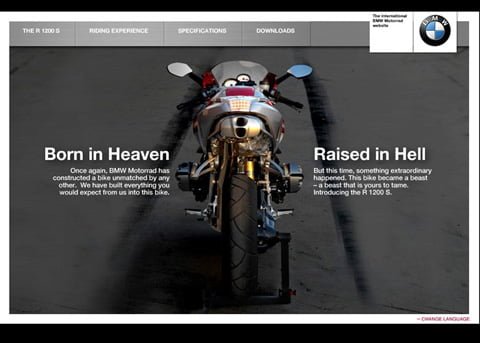 BMW Motorrad presents the Beauty and The Beast, all embodied in one terrific creature. Foreign presented the website.
BMW Motorrad was ready to prove to the world that German design is in all ways equal to that of their celebrated technological prominence. Combining the true aesthetics of beauty and power, the R 1200 S proves that BMW Motorrad has seriously leaped into contention within the super sport bike segment.
Challenge
The typical BMW mould had to be broken with this campaign as the R 1200 S is positioned towards a younger target group than usual.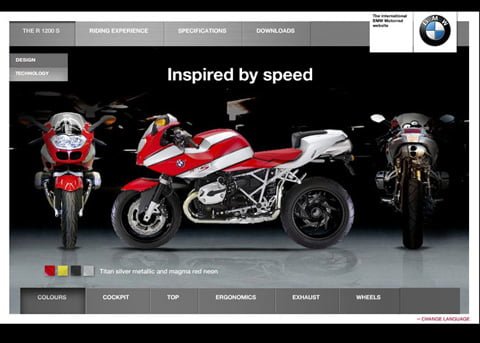 Solution
Through dividing the mechanical features from the beauty of its design, the site enables visitors to enjoy the R 1200 S in their own preferred manner. Whether seeking the beauty of its looks, or the muscles hidden beneath its hood, the flash animated site was designed to please all bike-loving lusts. The addition of a video displaying the performance of the R 1200 S taking curves further emphasises its technical greatness along with the image of what it looks like when you are riding the finest looking bike on earth.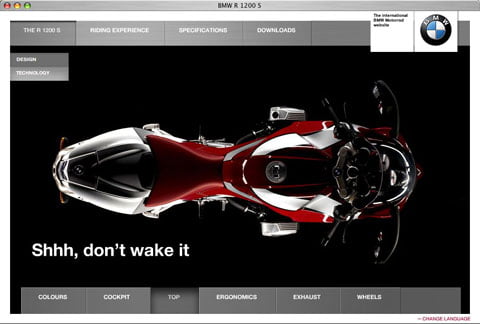 Result
Enjoying the R 1200 S in its true state, or taking in the bike's full capabilities while enjoying its stripped-down body, the site's design successfully met the demands of all motorcycle-loving people. Complete with a video of the R 1200 S in its natural habitat speeding along the race track, the several downloads further ensured that visitors were left with nothing short but the eager desire to get their hands on the accelerator and try it out for themselves.