While spending some time reading up on what the 'fine art' video photographer Vincent Lafore was up to I ran into a campaign by Canon placed on the video site Vimeo.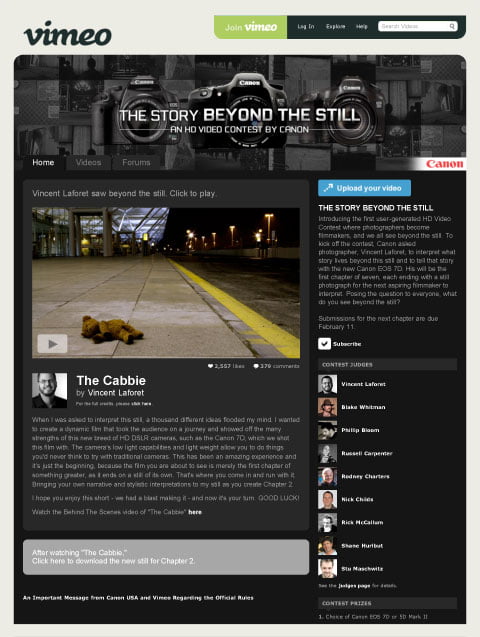 The concept called 'The Story Beyond The Still' is a perfect example on how brands could look into creating digital events rather than necessarily trying to pull traffic to their own sites.
Swedish brands as well as most brands seem preoccupied with trying to figure out how to get traffic to their campaign (often built in flash…) and brand sites. This is of course the number one strategy for any brand with an online business. But so far most brands do not have their business online so brand building and advertising is still what it's all about. In the new landscape of trust brands should rather think about how to provide the community they wanna serve with products and services with something that adds value.
This project from Canon is a great example of this. Much like Nikons "We gave then a D80 and what they came back with was stunning" project back in 2004 performs a perfect lunar landing on the right spot. Vimeo is quickly turning out to be the first spot for people exploring moving art. Equipped with the right keywords you'll find tons of inspiration in high quality.

The Story Beyond The Still: The Cabbie from Vincent Laforet on Vimeo.
The Canon 5D and especially the 7D is definitely transferring Hollywood movie quality into the hands of the masses and Canons HD competition is bringing out the best for us to see.
Another thing this concept brings to mind is the fact that online branding is slowly moving away from design and graphical execution to rather directing people into joining conversations. Anyone can design and build technology today. It's more about picking the right technology and putting together the right ideas!
We can you set down your lunar lander?