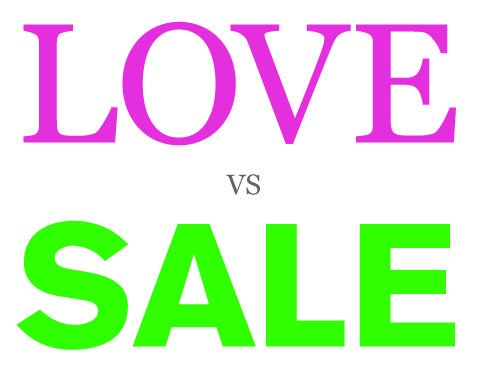 Traveling at a 110 km per hour can be good for your brain or bad – you be the judge of that. I'm on my way home from Sälen and since I'm not behind the wheel I had some time over to get one of my thoughts out of my head. Thank god for 3G.
The other day as I was reading the morning paper it made me sad to see how many brands had gone from brand communication to price communication. The entire paper was filled with SALE, LOW PRICE, OFFER etc. Of course it is the global recession luring desperate brand owners away from making people love their brands and instead trying to buy customers. A strategy that is quite stupid and short term, especially in paid media channels like print.
As I continued reading the paper I came to think about Nigel – Nigel Hollis, Chief Global Analyst with Millward Brown writes one of the better strategy blogs online. In one of his latest posts 'Less is not more' he guided me to a report he wrote already last year about 'Marketing During Recession'. In that reports he talks about hands-on survival tactics on how keep your brand alive during the recession. He writes about the established relationship between share of voice (SOV) and share of market (SOM).
"When a brand's share of voice is greater than its share of market, it is likely to grow its market share in the coming year. (if you hadn't heard about this it's time you did). Therefore, companies that increase their marketing investment when others are cutting back have an opportunity to substantially improve the standing of their backs."
Makes sense doesn't it?
Still the most common reaction in a recession is that brands will cut down on their marketing activities and especially move from brand communication to price communication when in fact the opportunity to strengthen your brand and it's share of voice is obviously the most effective as most other brands within your branch will probably do the opposite.
Nigel also writes:
"In any communication channel, the best way to leverage your spend is to put it behind high-quality creative. A meta-analysis of econometric sales modeling published in Admap (February 2006) found creative to be the biggest potential multiplier of profit (other than market size). Across a wide variety of categories, brands, and channels, Paul Dyson and Karl Weaver found that creative had five times as much impact on profit as did budget allocation."
Yihaaa!

Then how should you think when you're constructing your advertising and communication, when should you speak the emotional language and when you should be as rational as a greyhound bus – to really get the best out of that 'SOV'. That's what I had on my mind today while heading for Stockholm today.
Brands tend to, either emotionalize their communication, or go for the bang (price) straight away. Often do they keep the message all through the consumer contact points no matter where and why they're interacting with the brand.
I believe none of these ways are right. Instead continue to act as a strong brand and a market leader but adapt your communication depending on where in the consumer lifecycle you communicate and if it's a media channel you control or pay for. I've created this simple sketch below to showcase my thoughts about when you should emotionalize your communication and when you should be rational about your products. This goes for idea, photography, idea, copy and showing prices.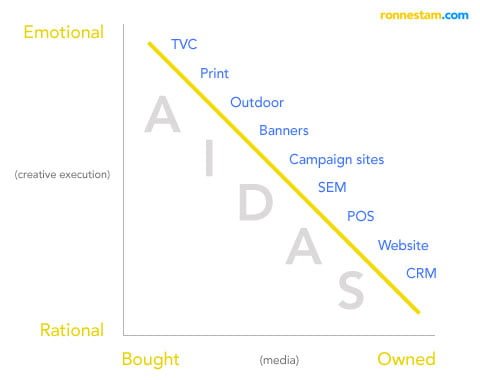 The simple guide to emotional and rational communication

Brands should strive for integration and develop an idea that can be adapted to each and every channel, all the way from paid channels like TV, print and outdoor to their own controlled channels like point of sale, websites and social media activities etc. Richer channels like TV deserves richer and more emotional content. We want to be entertained when we know nothing about a product or service. Once we're pursuing something we are turning into more rational people and we want answers. Much like the old AIDAS model. What's also important is the fact that once you've gotten peoples attention they tend to search for more information.
Jeff Jarvis says in WWGD "If you are a dentist, don't say you are a smile doctor, say you are a dentist because no one searches for a smile doctor".
So, to sum things up. Go read Nigels report. Spend money on marketing & communication, especially when the times are tough. Don't fall into the trap of thinking you will sell a lot more because you're communicating a lower price in media channels like TV or Print. You'll only end up driving people to price runner and then you've got nothing that makes them stick with your brand. Create emotions and make people love you. Then serve them the hard facts once they've moved towards your own channels.

What do you think?