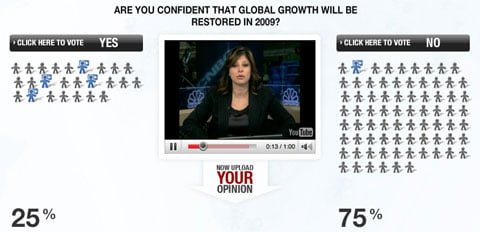 On Techcrunch I noted The World Economic Forum has launched the Davos Debates on YouTube, an open discussion on the state of the world. As well as inviting videos and comments from the YouTube community, the best of which will be shown at the Meeting, the person who submits the most thought-provoking video will have the chance to attend the Annual Meeting held in Davos-Klosters, Switzerland from 28 January to 1 February 2009.
In order to win that "golden" ticket you've gotta answer one of these four questions:
Are you confident that global growth will be restored in 2009?
Will the environment lose out to the economy in 2009?
Will the Obama administration improve the state of the world in 2009?
Should company executives have a code of ethics similar to doctors and lawyers?
Last year I criticized the initiative because I thought they could invite more everyday people that got involved on YouTube. This year they've obviously thought about it. But I must say its still extremely elitististic since they won't even pick one winner per question. A step in the right direction though.
Apart from the actual Davos thing, the Davos Debates on YouTube is interesting from another point of view – advertising.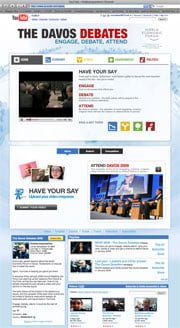 From an overall point of view, the YouTube channel is a first glimpse into many to come.
Basically The Davos Debate is a website hosted on YouTube. It's no longer a channel like others. Instead this one got its own design, its own functionality and its own purpose.
As brands are strugling on how to drive traffic to their sites, this kind of communication stands out in terms of you placing your brand site on YouTube instead of placing videos and hoping to drive traffic from YouTube. Obviously there's a cost for all this. But compared to getting the same coverage on TV this is a fart in space. I can definitely think of tons of brands that would benefit from this.
The latest American Express Open Forum for example. Great initiative that would benefit a lot in the long term if placing themselves like this. Obviously they could to both and mashup the content on their own domain, but definitely something like this too.
Anyway. Now I'm gonna start thinking on how to get to Davos.