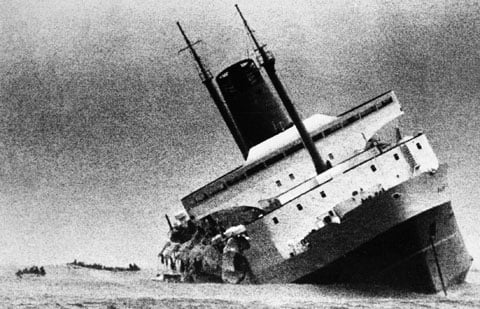 Let me break it to you right away – the old way of planning and executing communication is slowly sinking into the ocean of well paid consultants that doesn't do shit for your brand and the best you can do is throw yourselves into the lifeboats, get your ass to land and then find something else that makes your brand travel – and it's not another boat.
You see, in order to paddle on to this new wave of communication you've gotta get different gear, different muscles and find new spots and this requires totally new ways of thinking. It's not really about finding better creatives, cause the creative people out there are top notch, that's not what I'm saying – I'm talking about choosing problem solving first and channels second. Understanding every new channel and integrating that knowledge as early as in your product development process will be key.
Building brands and companies tomorrow requires a new way of thinking around product and service development that include knowledge on how people use technical tools, mobiles, their way of life and habits – ultimately the entire communication chain already in the product development process.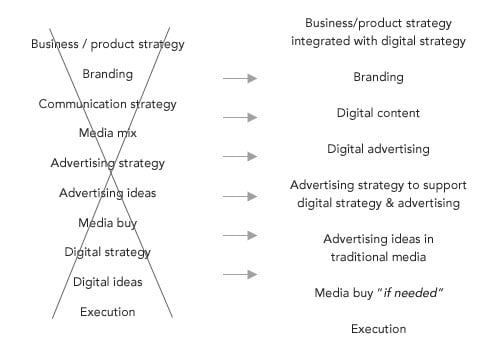 Turn your brand & communication process up side down
Turns things upside down. In order to get an effect you should create an online strategy based on your business challenge. Create ideas for a digital presence and then brief someone the challenge to create advertising that focus on supporting your digital strategies. We're moving into a new world where everything communicates and you cannot isolate things as if they had no contact with one another.
You might say; "My advertising agency understands this already and the media agency are providing me with great strategies" but I'm sorry, they don't know jack shit in 75% of the cases. To be able to recommend strategies today you've gotta understand technology. When it comes to media agencies most of them don't know jack shit in 90% of the cases. Well, of course they know how to place media and they're all struggling to twist their business towards one where you produce media…but hey, do you really wanna consult someone that actually makes money on producing the same stuff they recommend.
Today most companies contact a digital partner once they have an ad or a couple of TVC's and want to support that online. What you then get are shallow solutions that doesn't do anything for the brand on a long term basis and probably not on a short term either.
Your brand is up for a challenge. You've set up the way you sell, the way you develop products, the way you communicate, the way you follow up, yes everything – on the old way of doing things. Internet didn't exist in most cases when today's organization strategies were drawn up. How do you communicate internally that you don't need a sales force cause you're selling online and now you need 20 content writers instead so that you can end up top 5 on Google. How do you cut your old relations cause that factory of yours aren't developing new products fast enough.
If you're looking to turns things around, start by asking yourself the following question:
Can I involve integrated strategy people in my product development process?
If I take 50% of my existing media budget and focus on creating content based value online – what will happen?
How can we deliver new products in new packages based on new strategies in half the time as before?
How can I invite my target group in our product development?
Is it possible to move my communication plan from seasonal and product launch based communication to an ongoing established conversation?
How can I move my marketing organization from one that is built to buy communication to one that creates, controls, publishes, talks, supports an ongoing conversation?
How can I create content that is relative to my product and brand that search optimizes traffic on a daily basis yet continues to position us as the coolest brand on the block?
Can we move from producing print and TVC's to images, movies and other content that is relevant rather than selling?
This and probably another 100 questions should be answered. Run your company as an ideas company. You're selling an idea about something that will change peoples life. Based on this idea – provide people with value, offer them something that will change theirs and not merely something that will empty their pockets and fill yours.
Get started today – stir up a storm, aim for the biggest ice block & head for the lifeboats!