Wondering what clothes to wear, what car to buy, diamonds or gold? As long as there's some Blue Iris in it you'll be home safe.
Pantone has been the world's color authority for more than 45 years. And every year they forecast which color will be the ONE color for designers the year that comes. The color of 2008 will be Pantone 18-3943 Blue Iris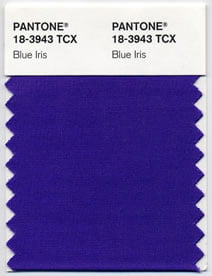 "From a color forecasting perspective, we have chosen PANTONE 18-3943 Blue Iris as the color of the year, as it best represents color direction in 2008 for fashion, cosmetics and home products," explains Leatrice Eiseman, executive director of the Pantone Color Institute®. "As a reflection of the times, Blue Iris brings together the dependable aspect of blue, underscored by a strong, soul-searching purple cast. Emotionally, it is anchoring and meditative with a touch of magic. Look for it artfully combined with deeper plums, red-browns, yellow-greens, grapes and grays."
(This is off course if Pantone has anything to say about it)
What do you think? Blue?