Candy brand Skittles have produced some kick ass TVC's (Skittles leak being one of my favorites) through out the years and now they're innovating the use of social media within fast moving consumer goods.
This blog post started in my head after seeing this discussion below between two of the bloggers I'm following. David Armano from Logic+Emotion and Jackie Huba with Church of the Customer Blog. They're talking about Skittles and how they changed turned their entire website into a Twitter search for the keyword skittles. Jackie doesn't like it, David does.

Skittles is of course not the first FMCG brand to do cool things online. Altoids has been rockin' the web with cool content since about 2001. Jackie Huba mentions Jelly Belly and their content heavy site. The thing though with strategies like this is that you're not taking advantage of the social crowd out there. Instead you're constantly paying to pull traffic to your own site instead of placing yourselves where the customers are on their terms.
What's really cool with all this to me is not the fact that Skittles is using Twitter but instead the little widget they've created that goes on top of whatever they want.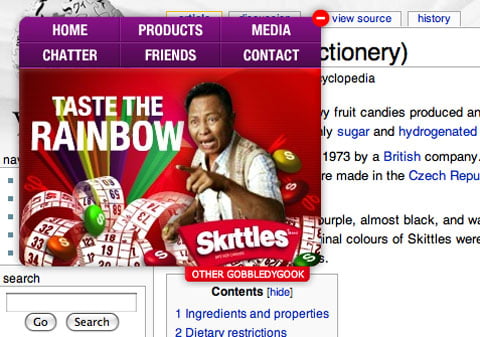 So, instead of building they're on site or even mashup, they've created the ultimate mashup – a Skittles widget that navigates you directly to the respective channels online – Youtube for video, Twitter for chat, Facebook for friends, Flickr for photos and ultimately Wikipedia for product info.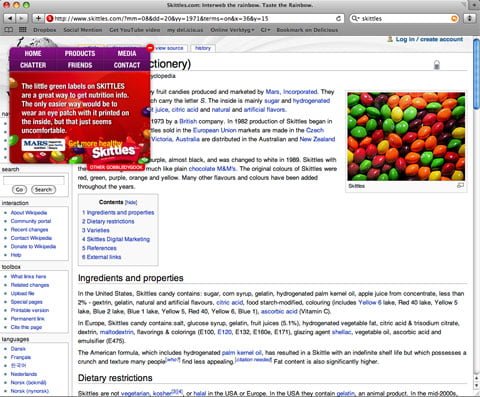 This case is a simple yet cool explanation what you can do online today. I'm speaking quite often about the power of distributing your content outside of your own domains and this is a good example of it.
Sum up. Experimentation has to be a part of your communication. Sitting at home waiting for the ultimate strategy won't work cause the net is ever changing!
Aloha!