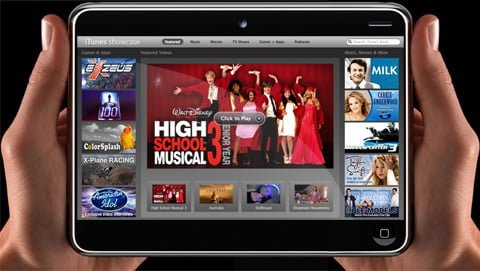 The new Apple iMedia? (isn't it strange that Apples iTunes interface is made for exactly a 10″ screen)
All over the net people are buzzing about what will come from Apple the next WWDC event in June. Reports says Apple has ordered a bunch of 10" displays that might be used to build a Tablet Mac, HD iTouch or a business iPhone. From these alternatives I think the HD iTouch is the most probable rumor (at least I hope so). However I think we should take it a couple of steps further than people have done so far.
Today I had a little discussion about this subject with Alexander Drewniak and Björn Alberts and I decided to publish my thoughts here as well.
Here is what I would do If I were Steve Jobs.
I would launch a 10" version of the iTouch that has a combination of the iTouch and Apple TV interface inside and call it iMedia.
The new Apple iMedia to be launched at the 2009 WWDC event would include a wireless HDMI plug that made it possible for me to sit at home, using the it to browse Apple TV, my iTunes application, the internet and remotely control my TV.
This way I'd have full access to Apple TV, everything that sits in my iTunes, YouTube, Vimeo, Blip, etc and my regular old TV. Sony, Samsung, Philips and the other old dragons would of course be invited to build remote control widgets for their respective TV screens, DVD, Bluerays etc.
The iMedia has all the features from the iPhone except the actual phone functionality. I'd include the same kind of SDK that the iPhone got and since the iMedia had wireless internet, people could build social networking apps, games I could play on the TV and everything else you can (and can not) think of.
The GPS would of course let you browse popular channels and content within your geographical area. The gyro would let you control car games on your TV with the remote control as a steering wheel. Quiz games would be the 'shit' on this one!
Another feature would be the camera. This beauty would include not one, but two cameras – one on each side. This way you could use it for iChat, Skype, MSN camera or record things to put online live on sites like Bambuser or Ustream.
Of course once I left home I could bring my iMedia with me and use it anywhere however I wanted.
Result?
The Apple iMedia would disrupt the use of a TV the same way the Ipod once helped disrupt the music industry. On top of that you would challenge the home entertainment system market and the gaming consoles. It would change our TV behavior forever and truly bring Internet to our living rooms. Consuming entertainment & media at home would never be the same again.
June – stay tune!