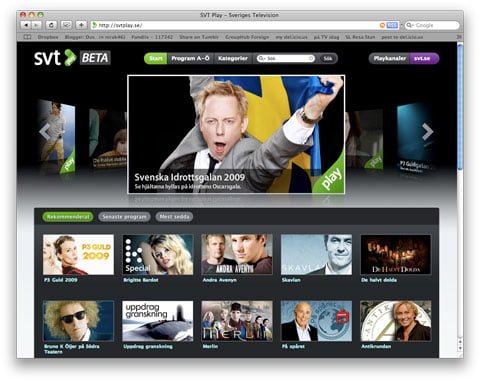 Earlier this morning I got an mail from Eva Hamilton, CEO of the Swedish Television letting me know that the SVT Play Beta was live. Obviously this must have been produced by some PR agency that decided my blog was a relevant target when spreading the news. But hey, aren't we all suckers for spreading gossip.
The new site from SVT is big step in the right direction. It seems inspired by HULU.com and from both a brand and usability point view the new site is a big step forward. The only thing I miss right now is an ajax based search functionality. Something like Booli's search would have made the site complete from a usability point of view.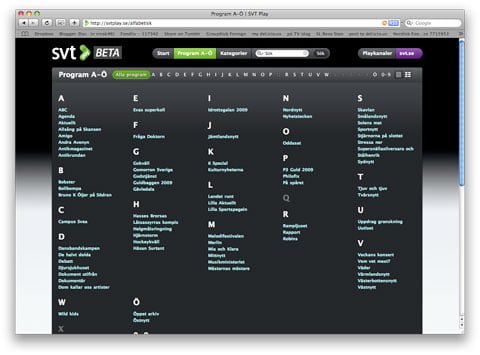 The social interaction is missing, and it's the key to getting paid.
I think SVT is missing out on a great opportunity here. Sites like YouTube, Ustream, Vimeo and Hulu got something that SVT has yet not implemented – a personal profile for the viewer.
The opportunity to save favorites, create your own playlists, tag content, write reviews, comment, get personal recommendations, get friends, subscribe to content, create your own channels etc are functionalities that could very well be the foundation to a long term solution to the licensing problem online. (SVT is free to watch in Sweden but you have to pay a license fee for having a TV set). I'm sure if I could log in to my profile during the day to prepare a schedule for the evening, maybe put together my own children's show, check on recommendations, watch trailers etc I would be happy to continue to pay my license fee.
Of course this is probably something that we'll see coming in the future. At least the design has room for more buttons and functionalities. However if it had been implemented in the beta launch today my headline would have been "Swedish Television launches the worlds best online television site". Now I'll have to go with the headline above instead.
A great site but still a beta
I've obviously been spoiled with Google having 45% of their services in beta mode. Years ago beta meant you could expect a lot of things to come, but today I want a beta to kick ass! To sum things up the new site is a huge step forward but I would have loved to see more social networking functionalities. So, what do you think. Head over to the new SVT Play Beta and judge for yourselves.
Finally, Eva said in her mail that she and her colleagues were looking forward to my post and would follow my comments on the new site with great interest. So, Eva, I expect you to join the debate here on my blog in the comments field – that, if something would prove that you and the Swedish Television are on top of your game.