Today when you market a product and actually manage to make an impact the first thing that happens is that people go online, not to your brand site but to Google.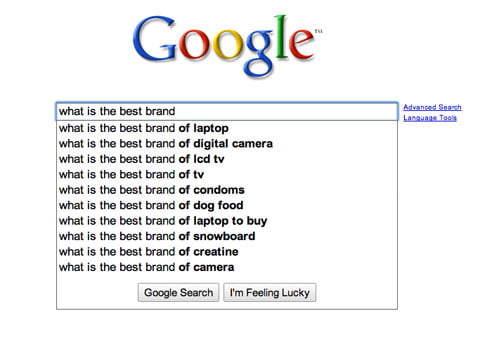 Have you Googlified your brand and business?
A search on your product or service reveals everything there is to be found related to that brand of yours. You might think they'll head over to one of your campaign sites but think again. People who search for your brand online have already gotten past the attention phase. They want information that is not tampered with by that marketing department of yours. Since the web is constructed of links and those links usually don't give a shit about advertising you can be sure your potential customer will go for user-generated content first.
Google ›› Search ›› Results ›› Bam ›› What will they find?
If you're one of the lucky few who actually do create kick-ass products – Then you can be sure they will find good stuff about your brand. But most brands out there don't since they've spent the last 50 years getting used to cutting costs and advertising their way into the mind of the consumer. Well, not any more.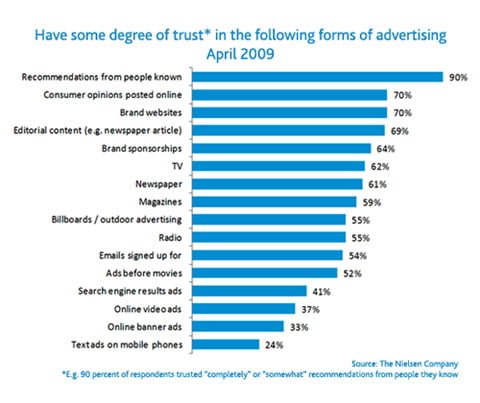 The Nielsen Company bring some clarity to who people trust
User reviews and recommendations like Yahoo Answers, comparison sites like Pricerunner, crowdsourced customer support like Getsatisfaction, Social buying like Blippy, forums, online experts on About.com, Facebook content, blogs, fan or hate sites, tweets, wikis, professional bloggers, video sites, photo communities like Flickr, online newspapers and even books via Google books. All of these provide an alternative and often more credible point of view of your products. Even more important – they all show up in that Google search result and there's nothing you can do about it.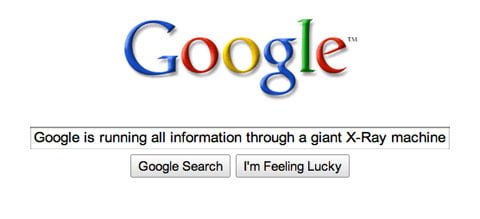 Media companies no longer filter information. You and your friends do!
Once your potential customer has learned everything there is to know about your product the competitors are only a click away if your products aren't up to the right standards.
So what does transparency mean for your brand and business?
Develop every product and service with a potential comparison in mind.
Good is not enough. Your product has to be the best
Move your media money from bought media to earned media in order to grow an online presence that creates true value for your customers.
Don't create websites. Create web presence.
Don't advertise things your products can't live up to. Potential customers will be disappointed when they find out. If it's bad they'll even spread the news.
Everything communicates (as I've said before)
Don't just look for potential threats on your local market. The web is global and your competitors will be too.
All that content generated by others can be your friend. Find it and learn about your strengths and weak spots.
Treat your digital fans like any offline VIP customer – give them stuff before other people get it and make sure they can share it.
When sustainability becomes key greenwashing is not an alternative.
Constantly innovate your products to beat your competitors to the finish line.
Constantly surprise people and they will love you for it.
You can't hide bad news from people.
Don't take credit for things you didn't do. Praise people who've inspired your brand.
Finally stop creating complex products and services. Take Clay Shirky's word for it.
Word!