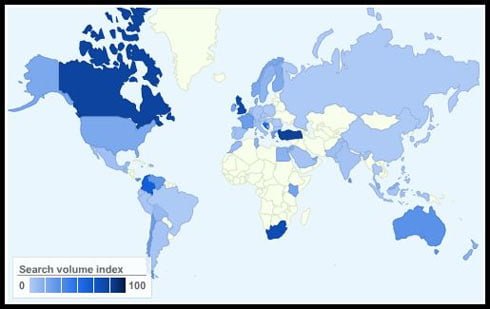 So, you're into communication and you know you have to at least try some social media activities in order to be on track with your competitors. You meet up with your consultants who says Facebook is the shit…ah mean Myspace…eh, LinkedIn…nooo Twitter…maybe…
You get it.
It's a jungle out there and planning has taken on a more technical shape than ever. Stats, functionality, API's, RSS and more. You grab your machete and go head on all those buzzwords. But once you come out the other side you might have been ripped of.
Well. Pingdom, a Swedish site who's focus lies on covering the uptime monitoring needs of 90% of the companies in the world posted a great little survey today about 'Social network popularity around the world'.
The social networks included the survey were MySpace, Facebook, Hi5, Friendster, LinkedIn, Orkut, Last.fm, LiveJournal, Xanga, Bebo, Imeem and Twitter.
The Pingdom guys used Google Insights for Search. The G Insights makes this quite easy for you. For a search term (for example "MySpace"), it will highlight the regions where that search term is the most popular. Google calls this "regional interest". This "regional interest" gives a good indication of which regions (in this case countries) a social network is most popular in. Google also provides a nice heat map of the results (like the one on top of this post)
Some of the key findings were:
Facebook is most popular in Turkey and Canada.
Friendster and Imeem are most popular in the Philippines.
LinkedIn is most popular in India.
Twitter is most popular in Japan.
LiveJournal is more popular in Russia than it is in the United States.
Orkut is more popular in Iran (10th country popularity-wise) than it is in the United States.
MySpace is the only social network which is most popular in the United States.
MySpace, LinkedIn, LiveJournal, Xanga, and Twitter are the only social networks in this survey which have the United States in their top five countries, popularity-wise. That is just five out of twelve.
So, head over to Pingdom and get some ammunition until the next time your advisors tell you which social network to use.
ps. Should you use social networks at all? Hell yes!