Me and partner in crime Göran Adlén, one of Swedens most hired and admired speakers on future trends, had a nice lunch a couple of weeks ago. Half way into a wonderful Pizza at Vapiano we suddenly cracked, what probably is our most stupid or…genius idea so far:
"Why don't we lock our selves up somewhere and chat away about trends, communication, design, technology, the environment, the world and much more for 24 hours without any sleep or pause. NO SLEEP – NO PAUSE! and broadcast it – Live!?"
Seconds later I was off the phone with Robin Danehav, thincasting mastermind, who answered in seconds "I'm in!".
Göran Adlén & Johan Ronnestam 24 Hours Live at Clarion Sign Hotel! Thincasted by Robin Danehav.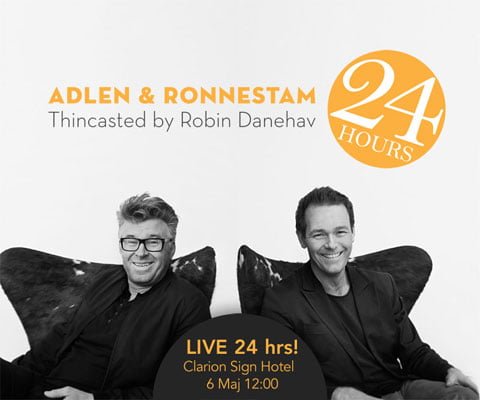 The event will be broadcasted live, both here on my blog and on the campaign website 24 Hours.se, as well as performed on stage at Clarion Sign Hotel in Stockholm, Sweden. So, mark the 6th and 7th of May 2011 in your calendars. Ah, almost forgot. If you're on Twitter. Use the #24live if you wanna tag along.
Oh, and of course it's all free. If you wanna pay something – pay me a Tweet or a Facebook link.
See you at lunchtime on the 6th of may!
ps. For you english speaking readers – the event will be held in Swedish but followed with 24 videos summarising the event – these will be text translated.