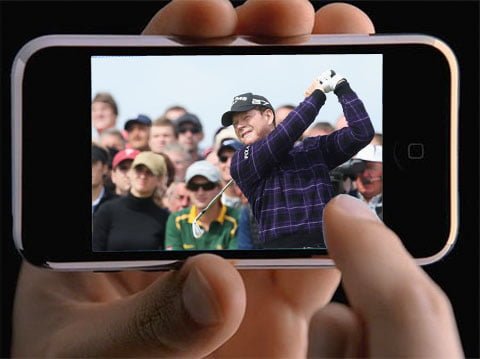 I play golf. I enjoy watching golf tournaments. I'm spending the summer in the lovely Swedish archipelago….without any coverage of the British Open…so I turn to the iPhone app store.
There it is. The second big golf tournament iPhone application in a month. US open lead the way with their application. If you're into sailing you might have noticed the Volvo Ocean Race application.
The British Open application is a regular news app with videos, timings, player profiles and a video based course guide. On top of that they've integrated a small part of their socialise section, the Open Twitter profile into it even though I wish they would have gone one step further and create a #theOpen tag or something where everyone could have interacted and contributed.
Some of the greatest sporting events in the world have already caught up with the trend but we're still in the early stages. Any brand that has some sort of event based presence should look at creating mobile apps. The possibility to integrate advertising solutions, games, videos, news, schedules, GPS functionality and even the tickets creates huge possibilities for brands that want to stay in touch with their fan base 24/7. Brands that want to reach that fan base should look for unique partnerships and integrate themselves into these applications with exclusive material.
In the end I think these event based applications will end up becoming great best practice examples when it comes to mobile advertising and that will in it turn speed the fact that money will move from traditional media into digital ones.
Are you heading an event in 2010? What will you ad to the mobile map?