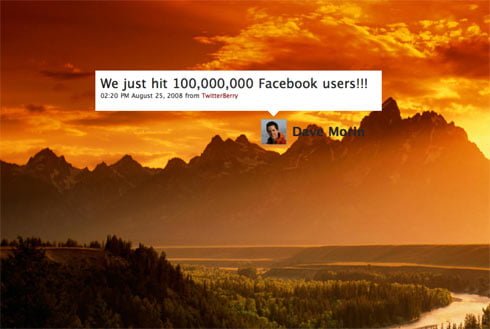 I presented an idea in front of the board members of a leading Swedish company a while ago when one of them suddenly, quite downgrading, commented on the lack of history in terms of best practise comparison in my case.
"How can you even suggest an idea that isn't supported with at least 5 years of data" – said the not so Internet friendly gentleman in the grey suit.
My answer was of course that Facebook and YouTube didn't even exist 5 years ago. We have to think different, it's a new world that doesn't go by the same business rules that's been around for ages.
The grey suit then replied – "Yes, but the service you've told us about is already out there"
"So was MySpace…"
Two days ago Dave Morin, the company's Senior Platform Manager twittered that Facebook has signed up 100 000 000 users. ReadWriteWeb, that made me notice the article, suggests that Facebook has fallen behind in terms of innovation.
  Hmm. That was my own thought about Facebook a couple of month ago, but lately I actually think the Facebook service has matured the last couple of month and it seems they are starting to get their act together again. There is definetely a change in user behaviour. In february and march this year, Facebook felt quite dead but now it's revitalised thanks to small but significant changes. Most of these changes consist of usability rather than any specific applications.
So, if applications were the things that drove the growth of Facebook, i think usability and simplicity will be the things that makes Facebook persist.
With 100 000 000 users you ought find some good ways to earn money huh? Google did with adwords. Facebook has tried some different things altough I don't think we've seen the money machine yet.
Congratulations Facebook on a fantastic job.