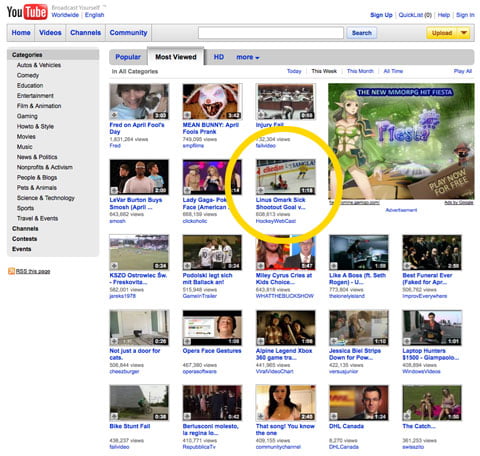 Linus Omark, the 6th most viewed video on YouTube this week.
The 6th most viewed video worldwide on YouTube this week is a video showing Swedish hockey player Linus Omark, drafted 4th by the Edmonton Oilers, scoring in a friendly exhibition game against Switzerland.
Linus does what every innovator would do – he dares to do different.
And differentiation is what earns him fame.

If you're into advertising, marketing or any kind of business for that sake you have so much to learn from this. Hell, if you're looking to achieve anything there's everything to learn.
In the end of the 80s I was privileged to be taken on as a member of the Swedish national snowboarding team. That's when I first realized what differentiated the people who made the it in life and people who didn't – the people in the team didn't care what people thought of us, we did our own thing no matter what. I especially remember a snowboarding camp in Valfjället, a small ski resort (hill) in Värmland, Sweden. About 70-80 teens had gathered for a half pipe camp arranged by Greger Hagelin who later founded WE.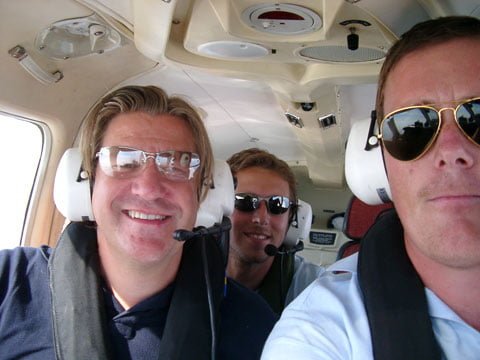 Me, years later piloting Greger Hagelin and WE co-founder David Hedman for a trip in a Piper PA-28 to Gotland.
It rained every day, yet early every morning before the lifts opened up a small group of us started to hike the pipe. Then once the lifts closed down that same group still hiked the pipe, the rain still poring down. Not much of a winter experience but for us it was all about passion. In that group we were all part of the national team or soon to be. The others practiced for an hour or two before getting pissed about the weather and leaving for the warm cabins. Once we got in later in the night we were told how stupid we were for staying out there all day soaking wet. We didn't care.
If you wanna achieve something big. If you want your advertising or marketing activities to reach further. You've gotta do things differently and also be prepared to make a fool out of yourself. Don't care what people will say if you fail. Get up and try again. Do your own thing.
So, when Linus, currently playing for Lulea HF, gets out on that ice and decides to try something he's been practicing for hours, hours and more hours he feels sure of himself. He will win. However if he would have missed I'm sure he would have tried again.
Are you prepared to stick your nose out? Or do you play it safe?