One thing I love about the internet is the fact that suddenly you find things that haven't surfaces for many years. Last week, thanks to AdLab I got word of a book by Douglas Atkin – 'The Culting of Brands'. Douglas wrote this book back in 2004 but as I'm reading it I'd say it's more relevant than ever.
The Culting of Brands is the fruit of research that has spanned more than seven years. Douglas was fascinated by the way brand addicts expressed the kind of conviction one might only expect at a religious revivalist meeting. If these people were expressing cultlike devotion, he reasoned, then the best way to understand these dedicated consumers was to study the original, cults.
Inside the book book Douglas has listed 10 'easy' steps on how to successfully cult your brand: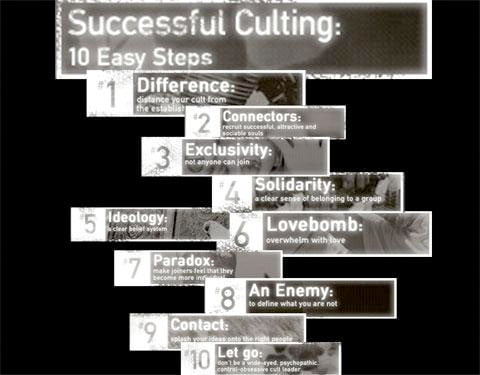 An image from Douglas Atkin closed but archived site
Difference – Distance your cult from the establishment
Connectors – Recruit successful, attractive and spectable souls
Exclusivity – Not anyone can join
Solidarity – A clear sense of belonging to a group
Ideology – A clear belief system
Lovebomb – Overwhelm with love
Paradox – Make joiners feel that they become more individual
An Enemy – To define what you are not
Contact – Splash your ideas onto the right people
Let go – Don't be a wide-read, psychopathic, control-obsessive cult leader
This is by far one of the best 'to do' lists on future branding I've seen. I've printed this and pinned it to the wall. You should too!
Here are some of my reflections on Douglas Atkin's 10 steps to successful cult branding:
Number 1 – Differentiation is the key to success. But make sure you don't differentiate beyond stupidity. The net is overflowing with campaigns and websites trying to reinvent usability. This is wrong. Make sure you measure everything and build yourselves into existing communities first.
Number 2 – Make sure your 'spectable souls' understand what the internet is all about and how they can utilize social media in order to maintain and extend their network.
Number 3 – Exclusivity should be interpreted as 'not everyone wants to join'. Every brand out there could and maybe should be accessible for everyone. But when you're trying to position your brand – positing it so that people love AND hate you! That thing in the middle won't pay your salary and on top of that it's a very grey and boring place.
Number 4 – When shaping the tactical execution – build on classical identification systems. Think "I live in Thailand and I like the King so I dress in Yellow". What markers of excellence can your brand dress itself in?
Number 5 – Ideology. Building a brand requires tons of fans that are prepared to help you. Manifesto or Ideology is a trendy thing today but it also is a very effective lighthouse that people can steer against. If you plan to build a brand focus on one thought should be your first and foremost plan.
Number 7 – Paradox is one of my favorites. People tend to think that because we all like the same brand we are a tribe. That's partly true. But people almost always join a tribe in order to strengthen themselves as individuals. Don't forget this! People who wear your brand do it so that others understand who they are, not where they belong! You should get your but over to Elia Mörlings blog Tribaling and dig deeper into Tribal marketing!
Number 8 – En enemy. Per Robert Öhlin, Swedish brand blogger and one of my favorite brand ping pong sparring partners always stress this and I agree more than most. You cannot win a war without knowing who to fight. Pick one not ten!
Number 9 – Contact! The internet allows for different levels of networking. Think hard about how and where you interact with your target audience. Facebook might be the broad scope? Twitter might be more focused? Should you create something like Ideastorm or MyStarBucksIdea for your fans. How do you treat the people within your company? Who out of everyone you interact with truly brings the most value to the table – do you know this? In order to make things even more exclusive. How can you interact offline with your super fans, no matter if they're B2B or B2C fans? Closed events, exclusive dinners or steering
Number 10 – This is very important today. The transparency is total. People will connect with your brand everywhere. I've written about this before but it's worth repeating. You don't really own your brand anymore. You merely look after it while we're shaping it. Listen and listen hard and you might trick us into shaping it the way you like. Ignore us and we'll turn you into dust before you can say 'homp chomp'.
Now 5 years after this book was launched I'd say this is more important that ever. We're living in a complex world with global competition, the consumer is more empowered than ever, new generations are shopping our products, speed is essential and technology is being democratized. Adapt, innovate and change – then you will be a player in this new exiting world!
Ah – forgot. Get the book on Amazon or maybe Bokus if you're a Swede.