About two years ago I frantically started writing on this blog post. Then the sheer length of it got the best of me and since then it's been stuck in my unpublished library. Now I thought it's time to give birth to this baby even though most of it was written about two years ago, before Facebook got big, the iPad and more.
When you read it – remember I pushed publish to share the love, not the excellent writing.
This post covers how you start and run a company practically for free.
The post will guide you all the way from day one until you're up and running and need to consider things like sales, advertising, process support, crm, intranets, extranets etc etc.
I spend about 1-2 hours a day reading about communication, advertising, social media and innovations through my Netvibes account. What's truly amazing is the fact that almost every day a new service is launched somewhere in the world (mostly in the US) that replaces the old way to advertise, communicate with clients, run projects, process customer data, run your IT systems, keep track of your finances etc etc. And what's even more amazing is that all these new services are practically always available free of charge or at least only for a small fee.
So I thought why not spread this knowledge to my blog readers and especially you out there who are running a company or thinking of starting one. Here are some ideas on how to think when setting up a future brand.
So, here we go – How to run your small business without loosing your pants (or the money in your pants that is)
The development within the 'so-called' web 2.0 services has now gone so far so it's possible to run your company practically without any in-house IT systems. Even a larger company could without problems move everything they do online at practically no costs at all.
When you sum it all up it's time for companies to reevaluate how to do business. Social networking and long tail services are taking over.
So, what if you were to run a company today? What's the formula? How can you run a business without paying a dime for technology and getting social attention at the same time. Once you got that business idea of yours ready to go. Then it's time to tell the world. And don't worry, if you haven't got one, there's even resources online that give away business ideas for free.
0.9 Before you start
First thing. In terms of costs, there are two things you should prioritize over everything else and that is: 1. Broadband – get the fastest connection possible. And make sure it's down and upstream. 2. Get a really good computer. Choose a Mac. Not because I'm against PC but because it'll support your creativity and once it's up and running, you'll never have to restart it again. It just keeps running and running.
A good friend of mine told me "We're changing our tag line. But in order to know which one to use we're putting out Google Adwords campaigns for 10 of our finalists. The one that generates the most traffic, that will be our choice"
1. Business plan, marketing plan and a key note presentation.
Whatever you do. Make sure you put it on paper. Putting things on paper forces you to choose carefully. Put whatever you've written into the hands of friends and you'll get great feedback on what you need to fine tune. Do you need inspiration? Visit slideshare.net or Scribd and then get going.
2. Register a domain.


IMPORTANT: Register your domain with the company where you intend to host your website.
IMPORTANT 2: Unless your fancy with code – don't register with a hosting company that doesn't have support for auto installers. I personally recommend Bluehost.com. But if you're a Swede you might wanna check Binero out.
There are of course some other alterantives like Active 24, Bust A Name, Miss Domain and SEDO.
3. Forget expensive software.
Don't buy software. They're expensive. You'll have to buy updates once a year. Instead use online softwares. Most companies need Email, Word, Excel and Powerpoint. For that I recommend Google Apps instead. Some companies may need graphical design tools. Well, then use Gimp or something like Splashup for graphical design.
Inside Google Apps you'll provide your employees with Gmail, Google Talk, Google Calendar, Google Docs and Google Sites. On top of that Google Apps is integrated with Salesforce, something I'll explain more about under CRM.
Gmail — Offer custom email addresses to your organization with up to 25 gigabytes of storage for each account, search tools to help people find information fast, plus instant messaging and calendar tools built right into the email interface.
Google Talk — Your users can call or send instant messages to their contacts for free — anytime, anywhere in the world. File sharing and voicemail is included, too.
Google Calendar — Your users can organize their schedules and share events, meetings and entire calendars with others. Your organization can also publish calendars and events on the web.
Google Docs — Co-workers can create documents, spreadsheets and presentations and share online files without having to keep track of multiple versions of the same attachment. And it's all compatible with Microsoft Word.
Splashup is a powerful editing tool and photo manager. With all the features professionals use and novices want, it's easy to use, works in real-time and allows you to edit many images at once. Splashup runs in all browsers, integrates seamlessly with top photosharing sites like Flickr, Picasa & Facebook, and even has its own file format so you can save your work in progress.
Forget expensive phonecalls.
When it comes to calling, you should of course make sure you have a regular phone number. But when you do, consider IP telephony. Messenger, Rebtel & Skype
Forget conference call systems
Campfirenow and since some time back Skype allows you to hook up 5 screens at the same time.
Forget finance systems
Blinksale, Freshbooks and Billings.
Many of the other sites I've written about can be used dependably of where in the world your company resides. But when it comes to financial applications, you really have to find and use a local products.
Blinksale is perfect for anyone in the US who needs to invoice clients for services or products sold. Basically, if you need to send invoices, Blinksale can work for you. What's really cool also is the fact that if you're using some of the other online products like Basecamp and Highrise (that I'm writing about below) the Blinksale also makes it easy to import and invoice your clients and customers without having to re-enter their data into Blinksale. Finally, is also has a fine API if you wanna integrate it into your own cloud.
4. Intranet and internal processes
Once your team (or you) are set to go, you may wanna set up the processes that you need in order to run your business. Let's start with the internal stuff.
Intranet (or actually Intranet 2.0)
Let's make sure you get an intranet that is alive and kicking. There are a couple of ways you can solve this by putting it all online. Here are three suggestions:
Use a wiki. Wetpaint is an online community where anyone can start their own wiki. Choose from a set of templates and you're set to go. Of course you can make sure all your content is private. Another alternative is PBWIKI, used by Citigroup and at&t among others.
Use Facebook. Ah, I know what you're saying. Stupid. But actually not. Facebook with all it's application makes up the perfect intranet. Just make sure all your employees are set up with a Facebook account and then start a group. Make sure the invites are personal and the group private. Then your're off. Chattsupport, documents, videos, forums, etc etc etc. Perfect.
Use your own Facebook – Ning. This place was founded in October 2004 to give everyone the opportunity to create their own social networks for absolutely anything. Today Ning powers the largest number of social networks on the Internet.
Finally. My own favorite. Use Yammer. Yammer is like Facebook and Twitter combined and it's set up in seconds. This is the shit if you wanna create an Intranet 2.0 for your company.
Now when you're done with the internal stuff, obviously you can use all those three examples to create an extranet towards your best B2B clients.
5. Project management.
Forget Microsoft Project Manager. What you need is a great group collaboration software. And Basecamp is exactly that. As they say themselves: "Basecamp takes a fresh, novel approach to project collaboration. Projects don't fail from a lack of charts, graphs, stats, or reports, they fail from a lack of clear communication. Basecamp solves this problem by providing tools tailored to improve the communication between people working together on a project." I've been using Basecamp in tons of projects and it's a killer. Not for free, but not far from it.
6. Sale support & CRM
Many companies spend millions on getting their CRM and customer support systems in place. Stupid.
First. Let's get a little bit 2008 when it comes to customer support. Don't believe your IT department when they wanna throw a heavyweight system that makes your budgets explode. Instead, use something that is free, something that positions your company as new thinkers and at the same time caring. Use Get Satisfaction for example. Get Satisfaction is a direct connection between people and companies that fosters problem-solving, promotes sharing, and builds up relationships. Thousands of companies use this neutral space to support customers, exchange ideas, and get feedback about their products and services. Get Satisfaction is open, transparent, and FREE. Head in there and register your company. Who knows, maybe it's even up there and people care about it…or the other way around. In that case, make sure you claim it fast and start supporting your customers.
What about CRM? Yep – no need to buy expensive software here either. Two places where you can get exactly what you need: Highrise and Salesforce. These two online CRM platforms provide Easy-to-use Web-based CRM solutions for sales, service, marketing, and call center operations that streamlines customer relationship management and boosts customer satisfaction. Salesforce is probably my number one recommendation as it is seamlessly integrated with Google Apps. On top of that they've already created a slick integration into the iPhone that let's your salesforce access critical customer information instantly through the iPhone's familiar touch screen format.
Lately however I've gotten more and more fond of Bantam Live that combines the power of Yammer with a typical CRM thinking.
7. Your website
So, the time has come to become public and show your ideas online. If you've done what I told you too and gotten yourselves a domain at Bluehost.com. Then it's easy as one, two, three. There is a beautiful thing called Simple Scripts. It provides you with auto installations of the most common open source content management systems out there. WordPress, Drupal, Joomla, Geeklog, Mambo, Xoops…the list goes on.
My recommendation is WordPress. WordPress is originally a blog system that lately is being used more and more as a web content management system. Developers all over the world are adding drag and drop plugins that enable most things you would want on your website. And when it comes to designs, you have about 5000 free templates to choose from. The last couple of month more advanced templates such as Thesis and stuff Woothemes and has been released for a very small price. By using Bluehost auto installer you don't have to care for anything in terms of configuring databases and emails on forms etc. It just works. All for the price of $6.95 a month…including hosting. Practically FREE.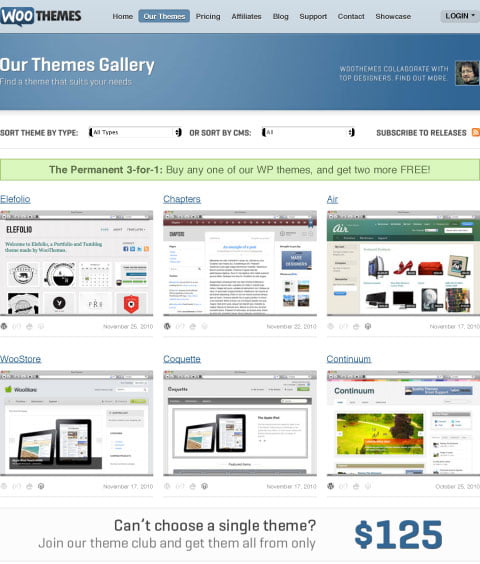 If you feel you wanna get moving with WordPress. Here's a guide I wrote some time ago on how to create a WordPress blog that rocks the world.
Once you're done with the website and your posts and articles pile up, it's time to burn your feed. Make sure you register your blog/site with Feedburner.
Why a Burned feed is better than a not-burned feed?
Publicize your content and make it easy for people to subscribe.
Optimize distribution so that your content is properly formatted for all of the major directories and can be consumed by subscribers wherever they are.
It allows you to analyze your traffic to learn how many subscribers you have, where they're coming from and what they like best.
If you're planning to sell your products online.
Not to worry. Let PayPal handle the payments. If you are planning to sell tons of products, then let Amazon Webstore handle the whole thing. Cost? $59.99 per month. Ok, maybe not free, but a whole lot cheaper than a multimillion dollar system. And I assure you, the Amazon Webstore will work like a charm. If you're Swedish, then head over to ebutik.se and you'll be up and running before you know it. Costs for ebutiken? Practically the same as Amazon Webstore.
Oh, and if you've set your site up in WordPress you could actually build your site on Thematic and then use the child theme Simple Cart powered by the great plugin WP E-commerce and start selling your gadgets for even less.
You might wanna consider checking who's the visitor to your site.
Then time has come for another FREE product. Google Analytics. Log on, register and implement on your WordPress driven site. Google Analytics will ask you to submit a site map that makes it easier for them to crawl your site, but not to worry, there is a FREE plugin for that as well. An alternative to Google Analytics is MINT. However, that requires a little bit of technical skills, but it might be worth it.
If you're this far into the post and have gotten your website up and running. Make sure also to check out Google Webmaster Tools. There's a lot of goodies there.
8. Company videos and photos?
Maybe you should pay for an expensive solution to make sure there's now glitches when your clients visits your website. NOOO, open a Flickr account, place all your videos and photography there. This way you'll make sure you pay nothing for a fantastic streaming and storing solution. Something you normally pay at least a couple of hundred thousand dollars for normally. Cost? $24.95 a year! And oh, I forgot. If you got a hacker in your organization, you can easily use the Flickr API and create your own video and photo applications. Finally the beauty of this is that you can use a simple drag'N'drop plugin to showcase both the photos and the videos on your site and at the same time everyone who think your company is the shit, they can send these things further. By using Flickr you also make sure you have a presence in more than one place. Social networking! Obviously you can also do exactly the same with your videos on YouTube, but maybe it's easier to place them all in one place.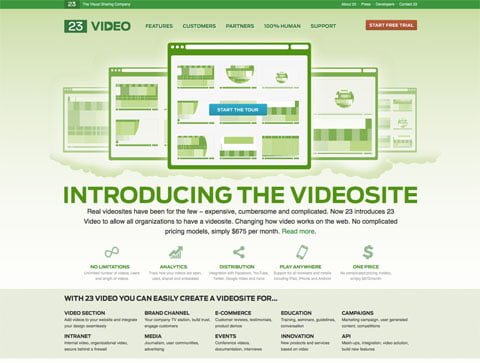 There is however a new Danish player in town since a couple of weeks back. They're called 23Video. Their business idea is pretty simple. Build your own video portal, host as many videos as you want and pay no more than 675$ a month. Splendid idea for you who wanna host your own stuff.
Whatever you do, you should make sure that you spread those videos outside your own or the network you choosed. An excellent product that I've written about long time ago and was reminded about in the comment field of this post is TubeMogul. TubeMogul lets you spread your content over tons of video sites and you'll get a great overview of how it's performing.
Let's move on. It's time to put that business presentation of yours into action.
9. Creating banners and TV commercials?
Of course you should run banners and TV commercials. But SEO, affiliate programs and Adwords is the shit.
Hiring an agency will of course give you the best results. But, let's say you've just started, since you already spent about $10 on Flickr your pockets are empty. No worries. Now that Google features TV ads on their websites it's easy to head over to Jivox or Spotmixer and start putting that wonderful piece of your together. Once you have created that wonder ful piece of your's head over to Videoegg or Google TV ads and start spreading the words.
When it comes to creating your own campaigns and banners you should also consider placing competitions on sites like 99 designs. You'll get great stuff while paying close to nothing. Look, Robyn does it.
10. Search Engine Marketing – SEO/SEM
Oh, this is probably the most complex thing you can put your mind to. First of all, before you even start you gotta get a shitload of traffic in order to experiment with it. And once you got that valuable traffic you are probably to afraid to try and you won't make use of your SEO knowledge anyway. But luckily there's people who can point you in the right direction – Aaron Wall, the founder of SEO Book.com. Of all the books and all the sites I've read on SEO marketing when I started writing this post, SEO Book.com was one of the best. Some time ago though Google published their version of a SEO book, and that one is of course free so I'd recommend you try that one first.
Apart from reading up on SEO at home I do recommend you to start following Nikke Lindqvist, Jesper Åström and Simon Sundén. Three friends of mine who shares their ideas through their blogs. Nikke and Simon in Swedish and Jesper in English.
11. Marketing
When I say marketing most people start thinking about sales people, advertising, events and getting articles about your product into newspapers and TV channel. Well, you can do without all of these channels. Think about it – ever seen an ad that sells Google?
What you've gotta do is get into Google Adwords, learn about affiliate marketing and get down with Facebook ads. There are of course tons of services out there. But if you become good at these three you're almost there. If you then on top learn to master social media you'll end up in those traditional newspapers and TV channels sooner or later anyway. Once you've got a database with clients you should get going with MyEmma or the better one – MailChimp. Two great email marketing services that will kick but.
12. You know what….I don't have any energy left to finalize this post.
I just thought it was important to get it out there. So in order for you to get hold of nr 12 you've gotta learn how to do it by yourselves 🙂
Go get em!
ps. Feel free to share more ideas and tricks in the comments of this post!