Now that's your future challenge. That's the problem that defines the requirements for digital brands.
In the real world you've got great locations and shitty locations. Let's say you wanna open a coffee shop. If you place it on the High Street you'll be sure to have clients dropping by. As long as you do an ok job of keeping your products in shape you'll do good. There's of course one problem – not many people can afford to open a coffee shop on the High Street.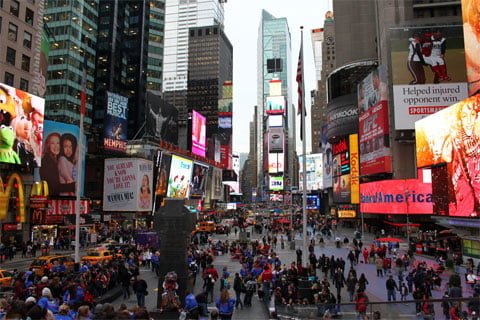 There's no Times Square online. Photo cred: Jo Quint
Just outside the town however, there you'll find space more or less for free. Your problem however is that you won't have anyone dropping by unless you've got a killer product or a killer service. Suddenly kick ass budgets come into play again, this time for marketing activities and product development. Online however you're competing with every other shop in your country…or even worse, you might even be competing with every other shop in the world.
This is exactly what the internet is all about. No one will buy something from you unless you've got killer products, a killer website and provide people with great value. And you can be sure that if you don't, they'll never come back. There's one more challenge of course – In the real world you are only competing with other shops in the same city. There are no High Streets on the internet. There's only fantastic products and services…and great marketing activities…over and over and over and over again! There are no shortcuts!
There is a fantastic opportunity here. Traditional brands haven't really figured it out yet. As I've written about before they're stuck in the past. This is your opportunity!
Go rule the world!