Last summer I got on a train leaving Stockholm for Gothenburg. Together with freelancing project manager, planner and colleague Caroline Karlström I had a meeting set up with diving brand Poseidon. This was the start of a project where I truly had the opportunity to work with all aspects of branding and creative communication.
A dream project.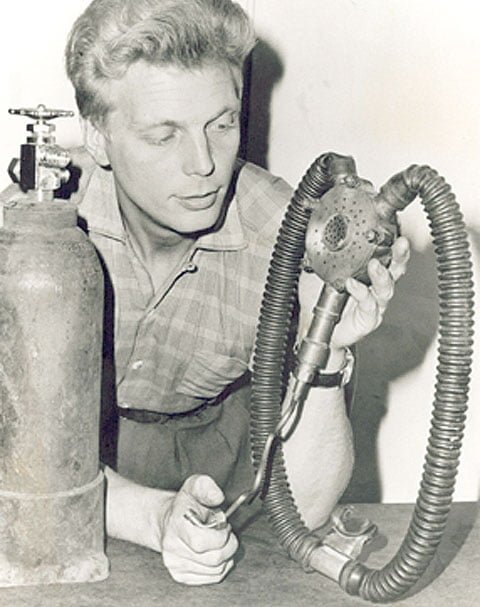 Ingvar Elfström, the founder of Poseidon back in 1958.
The Background
Back in 1958 this brand was founded by a young Swedish diver, Ingvar Elfström. Since then the brand has become famous for unique, different and great products. However over the last couple of years they've lost speed when it comes to innovation and marketing initiatives.
But then something happened. The company was bought by a small group of investors three years back. Headed by visionaire Kurt Sjöblom they set out on a journey – to develop the first ever automated rebreather for recreational divers.
This was why we were there. About a year from launch Kurt and his team felt they needed to do something about the brand. And after a successful meeting that actually started with me diving with this new product we had ourselves a new client. The mission. To re-brand Poseidon and bring their marketing strategies into the 22 century. The full guacamole!
The Problem:
Poseidon has since long been loved by advanced divers. People who know how to dive love Poseidon. As a result of this the brand has slowly been turned into a brand by extreme divers for extreme divers. How copy was written, photos were styled and packaging looked was all steered towards a small part of the diving world that in the long run wouldn't build a broad user base for Poseidon.


A typical photo before we started evaluating how Poseidon should be communicated
As Poseidon now develop new and groundbreaking products and target the recreational divers, the tourist that may bring his own gear on his vacation but might just as well rent the stuff, a new position is essential.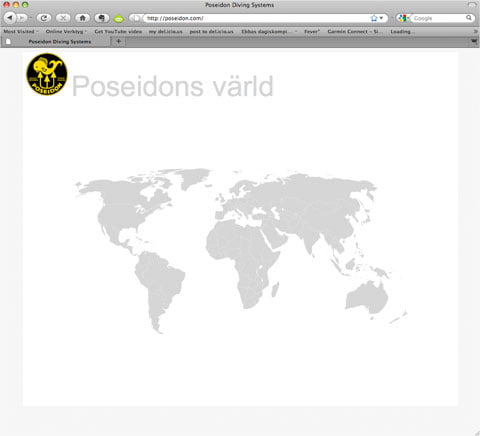 The old start page of Poseidon.com before we started the re-branding journey

Finally Poseidon is a global brand. With a presence on 28 different markets we also, from a visual and tone of voice point of view had to turn the brand into a global one that not only matched it's competitors but beat the hell out of them.
So there we were. Now it was time to rebuild this brand.
The Solution – What was our mission and what was the result?
Our task was to create a cross-functional and multi-dimensional definition of the Poseidon brand. Once that was done we set out to design and dramatize a differentiated brand experiences across the entire value chain and customer journey.
My parts in the project included working with the overall strategy together with Caroline and then develop a fully integrated creative direction that I later art directed. Once I had designed most parts of the project we brought in designers Kristian Packalen and Esa Tanttu whom I had been working with before to finalize my visions. Early in the process we also brought in copywriter Judy Olsen to clean parts of my conceptual copy but above all write all the copy for the new Poseidon website.
The re-branding of Poseidon Diving has included:
Create an over all brand strategy that would steer all communication initiatives.
Develop an integrated visual platform for a marketing components
Typography
Point of sale
Packaging concepts
Photography
Website design and strategy
Offline advertising
Online advertising
Search Engine Optimization (SEO)
Event concepts
Copy platform
After about 6 month of strategy, creative and art direction, design, photography, copy writing, 3D modeling, website design and production we're now closer than ever to accomplish our mission –  'create a cross-functional and multi-dimensional definition of the brand'. This is parts of the visual result: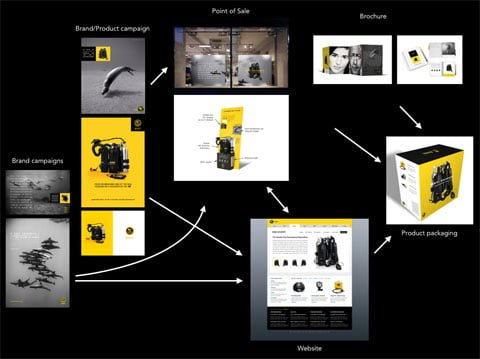 A selection of the units I've created for Poseidon, The visual system is clearly visible.

The Poseidon Brand Manifesto
Once we settled on a strategy (not to be communicated here) one of the first thing I did was writing the Poseidon manifesto. When I'm hired to create a new positioning for a brand I think it's essential to put words to my thinking. This way both me and everyone else involved, both on the consulting side as well as the client side, will stand on a common ground. Once this manifesto was approved we brought in copywriter Judy Olsen to clean it up. This resulted in the following: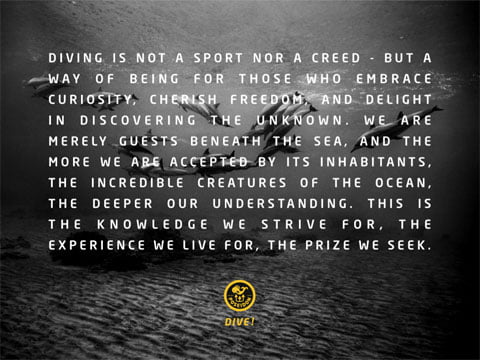 The Perfect Photographer For The Poseidon Brand Campaign – Wayne Levin
What we needed from day one was something that made people understand Poseidon is a new brand. Traditionally Poseidon has been all about hard core diving. Basically the military look above has been spot on. But now Poseidon is to be positioned towards a broader audience. We needed photography that clearly communicates the Poseidon brand.
We searched all over for something that could differentiate Poseidon from it's competitors. Something that inspired people and engaged them emotionally. Something that made people dream about diving. On top of that I also thought it was of great importance to find a photographer who also cared for the ocean and represented sustainability. Basically something that expressed the heart of Poseidon's philosophy.
I found Wayne Levin. Some of you might recognize the black and white style from the photos I took myself last year on Hawaii. Now you understand that those were of course inspired from the master himself. Wayne Levin is interested not only in seascapes and animals, but in the ocean itself: the texture, movement and volume of the water. It is this visceral sense of power– of how it feels to be right there within the vastness of the ocean – that accords perfectly with Poseidon's dedication to a pure, unrestricted diving experience.
So far Wayne has shot a limited series of photos for Poseidon. The purpose is to continue the collaboration with Wayne and shoot a series of videos too. Nothing can be more inspiring than to follow Wayne diving with the Poseidon Discovery taking pictures of some of the most inspiring animals on earth.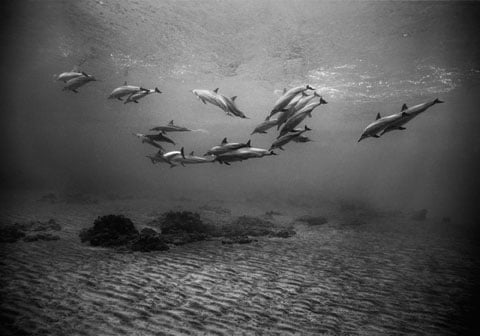 This photograph was taken at Ho'okena Beach in South Kona on the Big Island of Hawaii. The Spinner Dolphins often come into Ho'okena, and many other Kona Beaches and Bays in order to rest in shallow waters during the day after a night of hunting in the deep waters several miles off the coast. Ho'okena is a beautiful bay with very interesting sand formations caused by the waves and currents in the bay.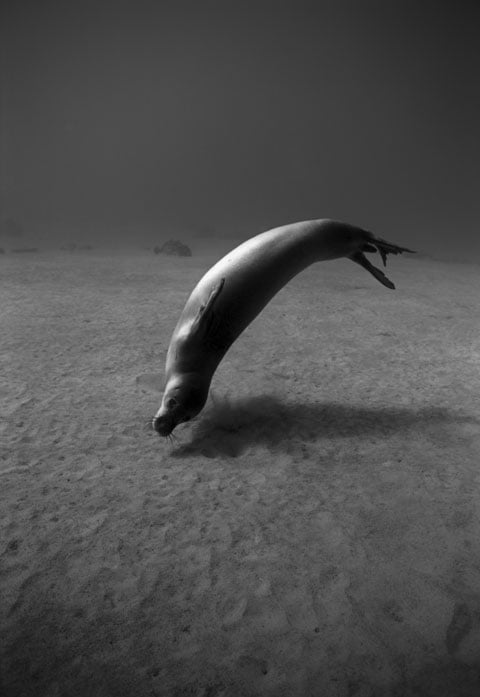 This photograph was taken off Mahukona in North Kohala on the Island of Hawaii. Wayne scuba dove at this location with a friend, and was very surprised to find this young female Monk Seal. The Hawaiian Monk Seal is extremely endangered so he felt very fortunate to have this encounter. Actually she was anything but shy constantly approaching Wayne very close.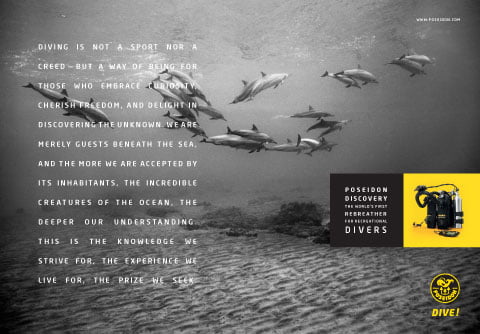 The photo of the Spinner Dolphins used in a full spread print ad.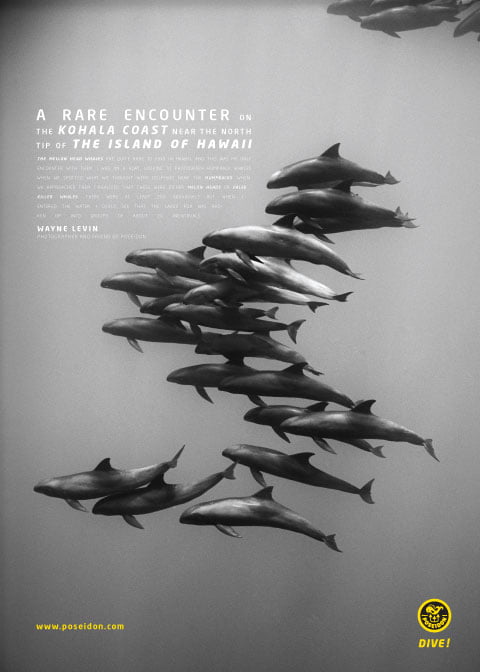 Creating posters from a photo taken about three miles off the Kohala Coast near the North tip of the Island of Hawaii. The Mellon Head Whales are quite rare to find in Hawaii, and this was Waynes only encounter with them. He was on a boat, looking to photograph Humpback Whales when he spotted what he thought were dolphins near the Humpbacks. When Wayne approached them he realized that these were either Melon Heads or False Killer Whales. There were at least 200 individuals but when he entered the water he could see that the large pod was broken up into groups of about 20 individuals.
Turning packaging into something emotionally engaging
Already from the start my point of view was to develop a visual system that engaged people in every part of the customer journey. The of course included the packaging of the products. As a result of this we planned to use Wayne Levin's wonderful photography on the packaging too. Along with the Brand Manifesto and the new product photography we've created a strong link from the advertising, the website, the point of sale material all the way to the actual product that you bring home.
On top of serving as packaging this concept also works as point of sale displays when used empty.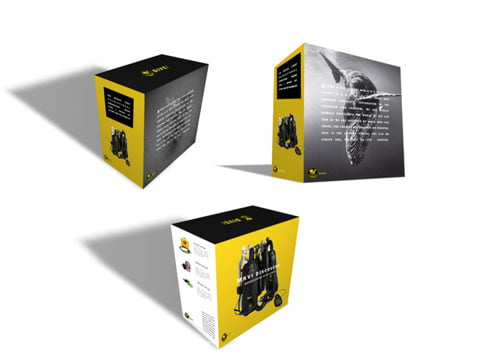 Wayne Levin's photos along with the Poseidon brand manifesto creates a great platform for the packaging too.
Making sure the Poseidon brand stays strong in point of sale environments.
Having worked with advertising for quite many years now my belief is that no matter how strong your advertising is, how smart your website communicates your brand and how great your products are it's all about the physical environments. Once you enter the store actual sale is about in-store presence. Even though Poseidon is a small brand compared to some of it's competitors we've strived to dress it up like a market leader. Strong visual appearance. On brand. Emotionally engaging. This is what shop owners want from a brand and we've tried to deliver just that.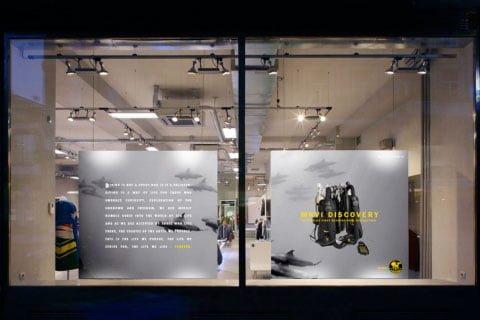 Making good use of Wayne Levin's underwater photography


Product display concepts that builds the Poseidon brand story while serving as a demo platform for the new Poseidon discovery.

The New Poseidon Website Design
One of the core components in the new brand platform is of course the digital presence. As we set out to revamp the brand online we first developed a series of different designs. All in all we designed twelve different layouts before deciding on the final design. It was key for us to find a designed that appealed both to the client as well as the target group. Once the site designs was approved and copywriter Judy was well on her way to revamp the tone of voice we brought in open source developers Devcore to help Poseidon bring the site to life.


Designing our way to a 'on brand' website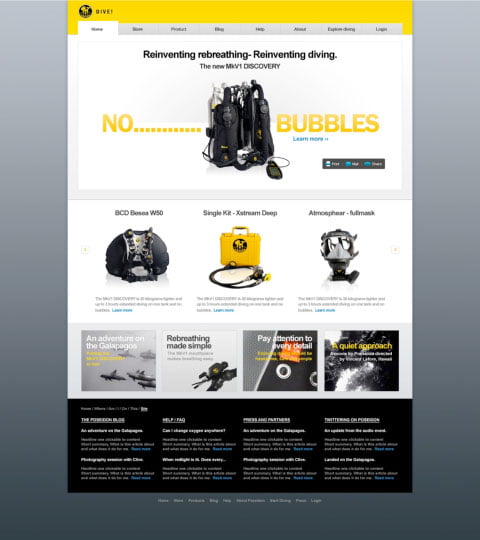 The finalized start page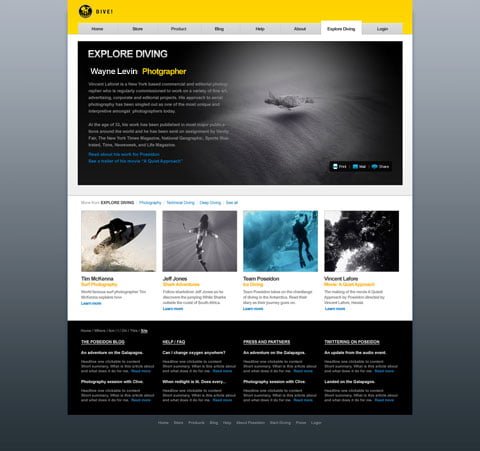 Explore diving is a content driven section that will be filled with relevant brand content over time.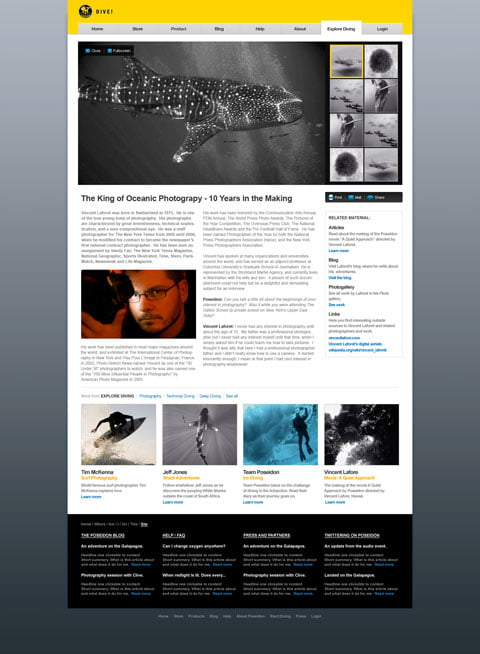 It was important for us to develop a design that felt dynamic.
Increase the overall look and feel
Overall one of our objectives was to increase the level of quality on all kinds of communication material. Among other things I developed photo briefs for both products as well as corporate information such as press photography and portraits. Once we've shot the photos together with Poseidons 'house photographer' Anders Kämpe I worked together with my homie retoucher and photographer Andreas Lübeck to bring out the best in the photos.


Making the product photography more engaging


An extremely short depth of field to ad a more personal look and feel to portrait shots.
Making product catalogs more engaging.
Finally I think this 4 page product catalog serve as a good example what happens when all this great brand material comes together into one simple yet important point of sale piece.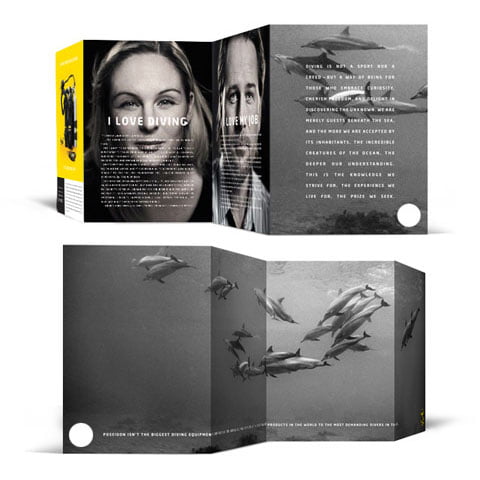 Poseidon Diving -A dream assignment
To work with Poseidon has been fantastic. To be part of a journey like this is great. To be able to control every component from strategy to tactical execution is even greater. The result is there to see but it's just the beginning. As we speak we're getting ready to initiate social media strategies including presence on Facebook, Twitter, Youtube, Flickr and much more. We're only just starting.