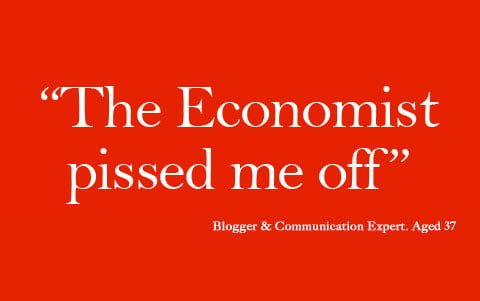 Yesterday I was sent an email from The Economist through their social communication agency We Are Social. The mail presented their latest campaign – Thinking Spaces. A campaign presenting a number of opinion leaders and their 'Thinking Spaces'. One part of the campaign contains a social component where they're asking bloggers to contribute with our own stories alongside those of the leading personalities already featured like movie director Claudia Llosa, musician Jamie Lidell and Spotify founder Daniel Ek among others.
The campaign piss me off cause they're asking me to contribute with quite a lot of content and traffic generation without really giving anything back. On top of that it's clear that Spotify is featured for more than one reason as there's obviously a hidden marketing component where I'm asked for my favorite Spotify playlist. (I would know since I'm running a Spotify playlist site on the side)
Dear Economist, let me tell you a little bit about me and MY thinking space.
This is MY thinking space.
If you would have respected my thinking space you would have started this campaign entirely different. I don't get why you have created a flash site when you could have integrated the entire campaign on a blog platform. You could then have written a series of posts explaining your campaign to people and in that post also publicly linked to the blogs you asked to participate. This way you would have given us credit before you actually ask us to give you credit. Now the actual campaign leaves out social contributors.
The questions then?
I don't want to answer a set of question about my personality that fit's your campaign mold. On top of that I don't get what Spotify has to do with it? (of course I do since one of your 'leaders' is the Spotify founder Daniel Ek). Why didn't you ask participant to crowdsource your questions for you? Or give us one single question. One single question would have challenged my creativity. Now you're more or less asking for my resume and an entire novel.
When you do social campaigns – give something back before you ask for support!
If a campaign like this would come from a brand like Kiva, Unicef, The Red Cross, Amnesty or another aid organization I'd love to participate without getting anything back. But a commercial brand like yours, The Economist, has to do better. On the campaign blog I read: "The Economist might feature your own Thinking Space on the site, along with those of the original featured personalities." That's not enough for me! If you succeed with this link-bating campaign I'll end up in a long list of blogs that I don't know if I want to be associated with.
Why didn't you think social for real?
I don't see why you didn't choose 50 bloggers from around europe and built the entire campaign around us instead? I bet the budget you paid for this campaign and that flash site would have covered it. You also have access to something we don't – a paper. If you would asked us bloggers for a unique story and in return done a piece on our blogs in your paper rather than on a campaign site you would have gotten fantastic content, trust me! And if you don't then why bother asking for my participation in your campaign.
All in all. It's good that you're trying to go social with your campaigns – but don't act like the dinosaur brand you are – think smaller, think friendly, think like you're one of us and think social.
Finally.
I get that I've contributed to the SEO & link-bating part of your campaign. That is of course if people don't decide to link to this post with the title The Economist Thinking Space campaign then I'll be the winner.
Now I need to get back to spending my summer in the best possible way.
Best regards from the Swedish archipelago.
Johan Ronnestam
ps. Some blogs obviously got hooked. So far these blogs have joined the campaign:
Bibliobibuli, Chewytha scratchynutz: Tribeca, Code is poetry, The Curious Brain, Creative Bits, Creativity Online, Eskimon, Geoffrey Dorne, Lasse's Findings, Marty's Musings, Moleskinerie, Neoplayground, Nicola Davies, Notcot.org, Not For Paper, QBN, RA Forum, RiotInc, Rubbishcorp, Shawn Blanc, Theendofdecember, This May Be It, Unseen Said, Viva La Network, We Are Pop Slags, Wink at creativity