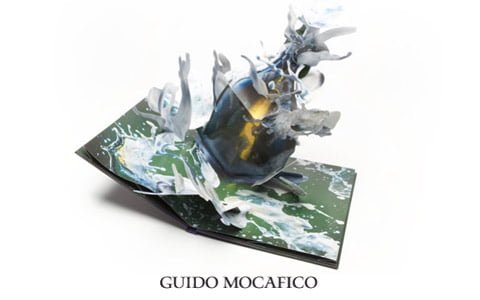 Nothing is like it used to be. A couple of years back I attended a Luxury marketing meeting in Monte Carlo. I was one of the speakers and I spoke about how the younger generation will want to see more things from the Luxury brands than just good old beauty shots of expensive products. A couple of posts back I highlighted the IWC print campaign which is a step in the right direction.
Today however I'm amazed with how prestige cuvée champagne house Krug balances innovation with luxury.
Together with niche luxury art and fashion printing press Visionaire, Krug has created a marvelous piece of pop-up art. The 10 beautifully designed pop-ups have been created by Sophie Calle, Andreas Gursky, Cai Guo-Qiang, Steven Klein, Yayoi Kusama, Alasdair McLellan, Steven Meisel, Guido Mocafico, Nicola Formichetti/Gareth Pugh, Sølve Sundsbø, and Mario Testino. These guys all stand for innovation in their own field. The planning of this campaign is spot on.

Krug has limited the edition to 4,000 numbered copies worldwide and 12 sets with a bottle of Krug Grand Cuvée in a gift box only available at the Ode to Art Gallery in Singapore.
What's truly nice about this piece is the fact that it's demonstrates what branding is about today. If you're looking to spread your brand it's all about becoming talk of the town and not necessary pay to place your ads all over town.
This activity is about innovation, creativity, partnering with great people, a great print house, the Krug brand, industrial design, video, print, ideas, effect, visuals etc etc etc. There is something for everyone out there.
When you create communication pieces like this they're spreading them self due to the fact that they offer something unique that is relevant to a multiple of audiences that in their turn spread the content further. In this sense my blog now becomes another branding surface for Krug.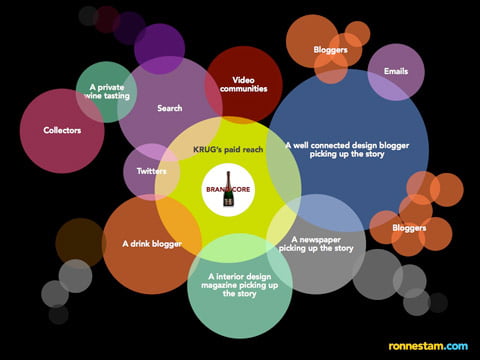 Krug spreads their brand in social networks based on creative and innovative ideas
If your communication initiative is good enough you'll probably end up with all good branding surfaces. The thing is that bloggers like me and other brand surfaces like to blog about bad stuff too. So make sure your piece of communication is up to the job, otherwise you might end up damaging your brand instead.
So, to conclude this post. What you gotta do is to create brand activities that are absolutely on top of the scale when it comes to innovation and creativity. If you partner up with someone or as in Krug's case a bunch of great people, your campaign will kick off like never before since there is so much in there for everyone.
ps. I found the campaign on Luxury Insider. Down in Monte Carlo I met the founders of the site, a great bunch of young entrepreneurs.