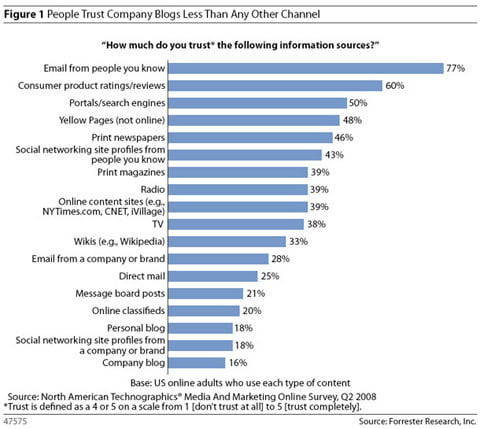 In this recent study Forrester asked people in North America what information sources they trusted. Look at the 2 bottom bars. The least trusted source of information is a company blog and social networking initiatives from a company or brand.
Lately I've been talking a lot about how communication must shift from event based communication (launches, seasonal etc) to conversational ongoing brand communication. This study in my mind is a great proof of that. The strong brands of tomorrow really must change how they communicate their products and their brand.
Think about it. If you took your entire marketing budget (including media budget) and directed it all towards keeping conversations alive. Making sure you're the talk of the town constantly. Stopping all paid marketing activities and instead focus on establishing and maintaining a dialogue with your target group. What would that do for your brand. Which TV channels would then talk about your product on prime time anyway. What blogs would follow your every move. How many viewers would you have on YouTube and other online channels. How would this support your sales force when they're trying to get space on that tight shelf?
One thing is for sure. Your brand would be included in more emails from people I know, you would be rated higher on sites like Pricerunner and Compricer, Google would upgrade your SEO value, people would look for your products in the Yellow Pages, newspapers would write articles about you, your latest innovation would travel through social networks at the speed of light, radio channels would report on your success, the news anchor would speak about your product and somewhere in the end you might get more people to trust your company blog.
Of course I understand that you might still have to spend some dough on visibility, but the visibility of tomorrow is not about traditional media channels. Instead its about supporting your conversation on and offline. And this is something you shouldn't pay your traditional media agency to do.
psst – Found the study through ReadWriteWeb.