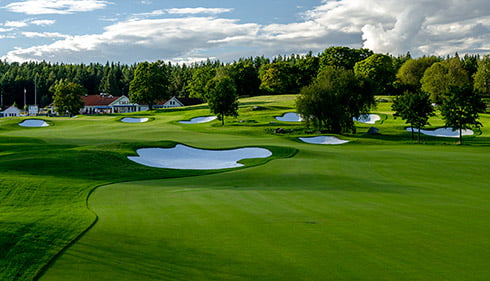 Photo by Andreas Hemmingsson
About a year ago I was approached by David Hamilton, board member of the Swedish Ullna Golf Club and also owner of Caddee. The Ullna Golf Club was established and designed in 1981 by the late Mr. Sven Tumba, a Swedish sports icon and golf pioneer and the same year in August, HRH Prince Bertil officially inaugurated the golf course. Of course there had been many great Swedish golf clubs before Ullna GC but in many ways Ullna GC broke the rules in terms of how you ran a golf club. For example it was the first club in Sweden that focused on making the golf course available for its members. Because of that Ullna only allows 574 members.
In 2011 the members of Ullna GC took the decision to upgrade the design of the Ullna golf course. Jack Nicklaus, one of the worlds greatest golfers and a long time friends of Sven Tumba offered his services. His company Nicklaus Design is one of the worlds most respected golf course design companies. He had visited Ullna GC before and felt it was a true challenge for him to turn this already great golf course into an iconic one.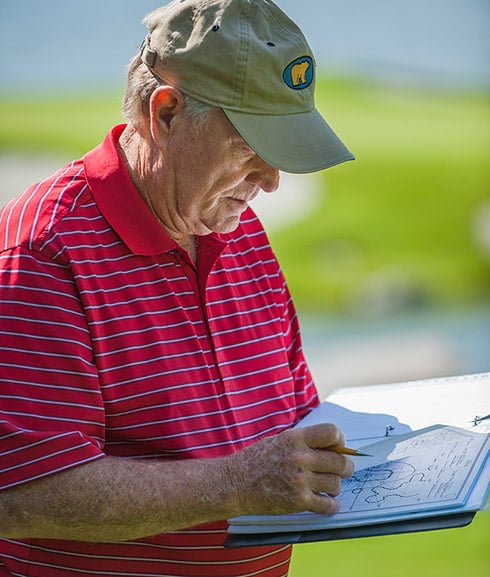 Photo by Oskar Lind
With Nicklaus Design and Jack himself onboard, Ullna GC now felt the need to upgrade the brand of Ullna. The original brand platform had been used since the opening 1981. It had served its purposes but the upgrade performed with Jack Nicklaus called for a new positioning, a new tonality and an updated brand brand platform.
David Hamilton, head of the Ullna GC marketing department, approached me to ask me about my services. He had heard about what I had done for other brands, my passion for golf and the fact that I'm also a member of Ullna GC. The club had already started negotiations with another agency but wanted to see an alternative. We met in the end of June 2011 in my office on Brahegatan 26. I showed him some of the work I had done for Marginalen Bank, Poseidon and also some ongoing projects for Svenska Spel (that I unfortunately cannot show you). David felt convinced I was a player they should include in the game.
The process. Winning and creating the new brand platform for Ullna Golf Club.
I decided to team up with a design agency I'd worked with before – Visual ID and about a month later Ullna Golf Club decided to award us the project. Together me, Mathias Wiberg and Niclas Svensson from Visual ID started on the process of revamping the Ullna Brand. We had a series of workshops where we discussed the old logotype and what Jack Nicklaus meant to the future of Ullna. We walked several other of the famous Swedish golf courses to get a good understanding of the competition.
Early in the process I communicated to Mathias and Niclas that we shouldn't focus primarily on design but rather aim for something bigger. I seldom recommend a changing a logotype when I'm working with a branding project. However, the close collaboration with Jack Nicklaus and the massive upgrade of the golf course called for something else. I felt we needed to create something that would last for a long time, we needed to create timeless design, an iconic design rather than a logotype.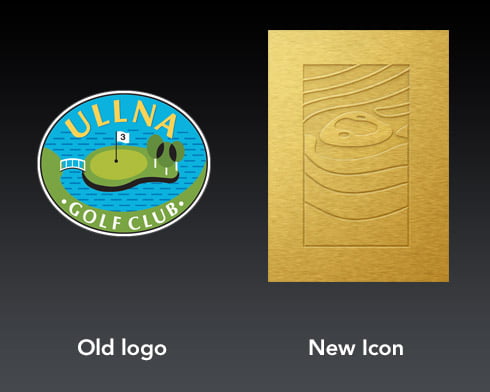 Changing a brand platform for a company can be tough. Changing a brand platform for a golf club where members should have their say is more than tough! With this in mind we felt we needed to build on the heritage of the old logo. We bounced several ideas back and fourth but finally decided to go in a specific direction. The idea was to change perspective but keep the third hole (visible on the old logo) as the base for the design.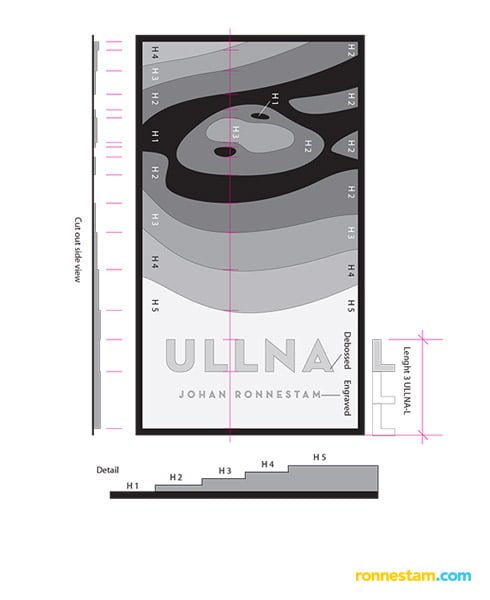 The topographic logotype
We decided to work with the 'topographical curves' of the third hole instead. Once the direction was clear we all brought paper and pens to the table and started sketching. Working out how to portrait the hole visually was not easy. During the process I think we drew at least fifty different designs to choose from. Then in the end once we all agreed on a direction, Mathias, the design director, spent another five days on perfecting the curves. In the end I think he was a little bit tired of me who kept on saying 'cleaner', 'more iconic' and also the fact that I really had a clear idea of colouring and typefaces.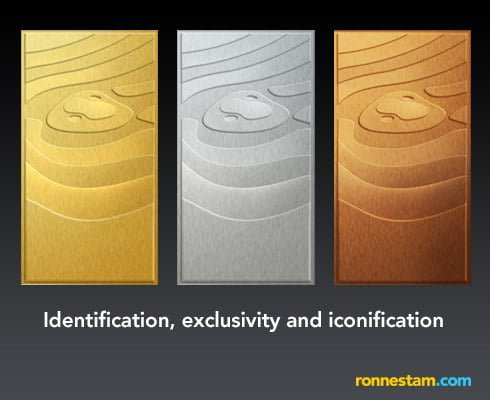 The member badges together with the badges you receive as a guest.
In the end however I think we reached a fantastic result. As always I decided that we needed to implement the brand platform on several different logo holders. We digitally showed the logo on houses, the golf course, clothing, products, golf balls, pegs, golf clubs, umbrellas, members badges and cards, guest cards, flags and a lot more. We even had the logo visualised in real 3D.
Ullna loved it and we delivered a new brand platform accompanies with the new brand guidelines.
I've then worked for the last 8th month with the physical implementation of the brand. We've met manufacturers, we've created prototypes and we've had part of the physical logos produced outside Sweden. Implementing a brand platform on a physical arena is the ultimate project I'd say. It's extremely exiting but at the same time exhausting as you have to say no a lot of times. Saying no to things that doesn't look good enough will in the long run lead to a much stronger brand. In the short run it's not that fun though.
The new, rebranded Ullna Golf Club will re-open on the 8th of june this year. When they do most of my work is done. What is left is creating a new image bank but that has to wait until august when the golf course is in perfect conditions. I'll get back with what I've created then. During the implementation of the project David Hamilton has been an invaluable partner to me in making everything work smoothly. David has also been involved with his on company and his expertise in making some of the implementations come to life.
I've worn the following hats in this project – Head of brand strategy, creative direction, designer, project manager and passionate golfer!
Here are a couple of things that gives you a clear idea of the Ullna rebranding project. Hope you like it!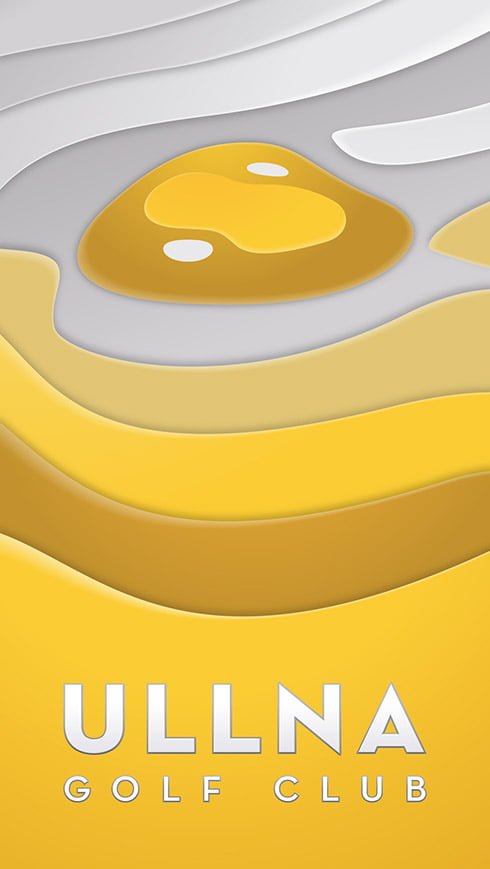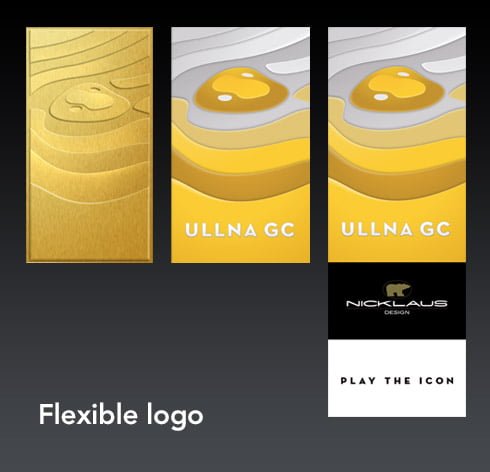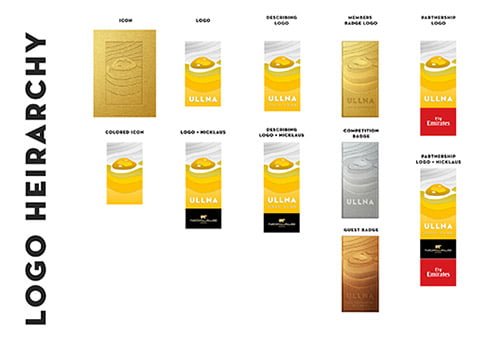 A visualisation of different possible implementation of the logotype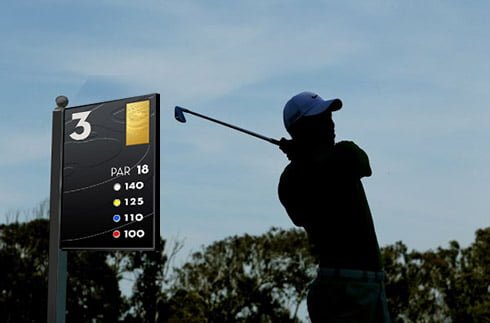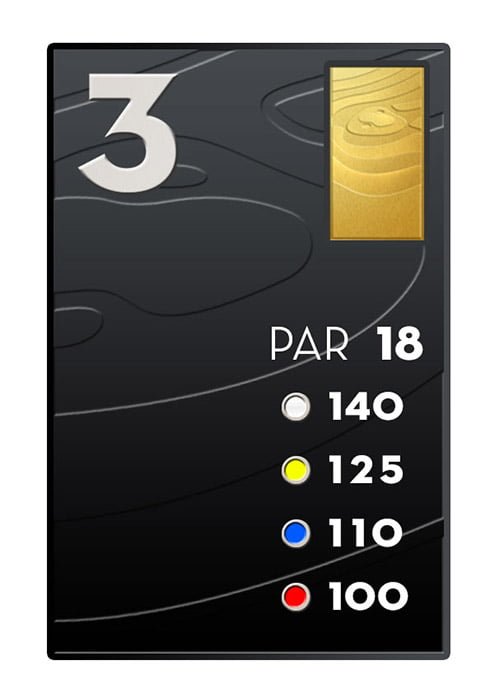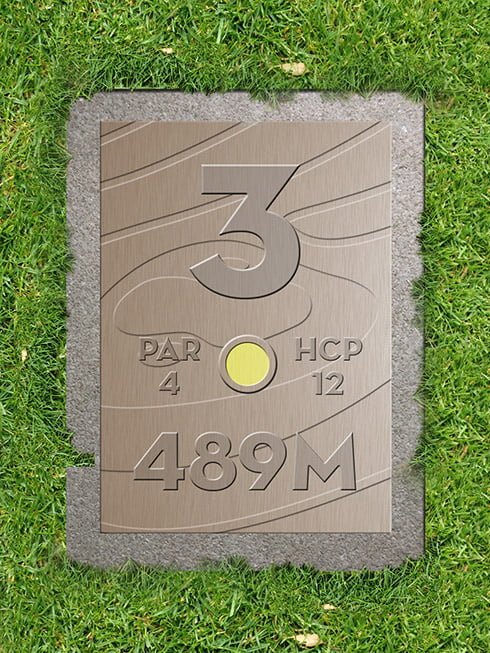 The signage on course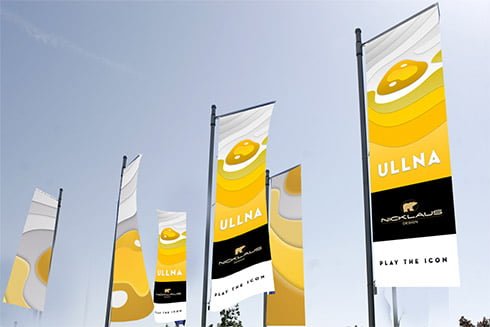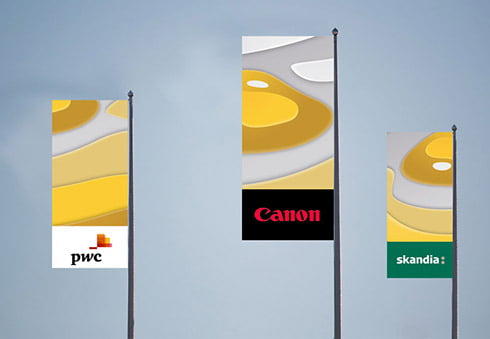 Flags with and without sponsors.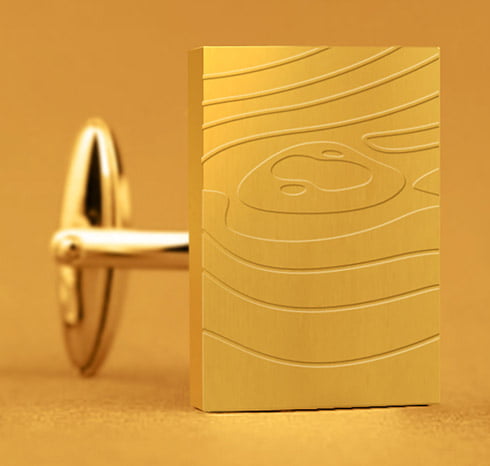 Merchandising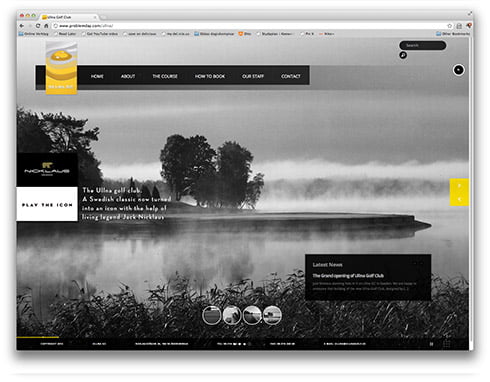 The digital presence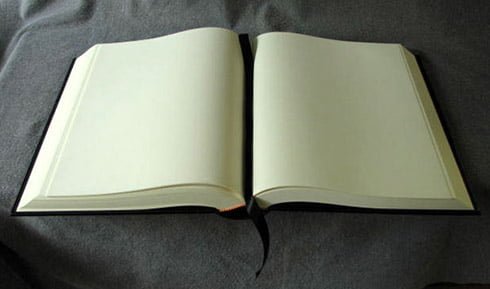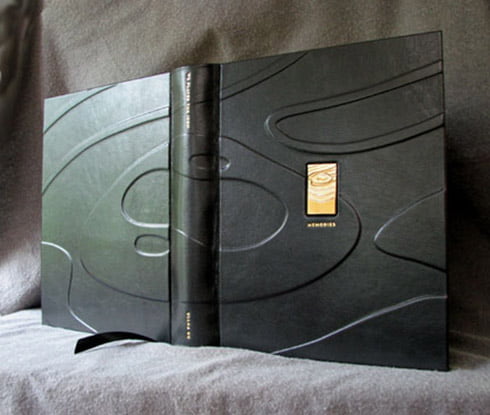 A personal gift from me to the Ullna Golf Club was this guest book. Early in the process I felt I wanted to hand something over when the club re-opens. I searched the web for someone that could help me bring my design alive. Google is wonderful! I found Tedra Ashley, a book binder specialised in making unique guest books. She ran a company called Fine Blank Books and even though she worked out of the US I felt she was the perfect partner for this part of the project. The book is rather large and monumental with a page size of 10 and 5/8″ wide by 13 and 3/8″ tall. The book has around 300 pages (600 page sides to write on) of unlined paper which makes it about 1 and 1/2″ thick.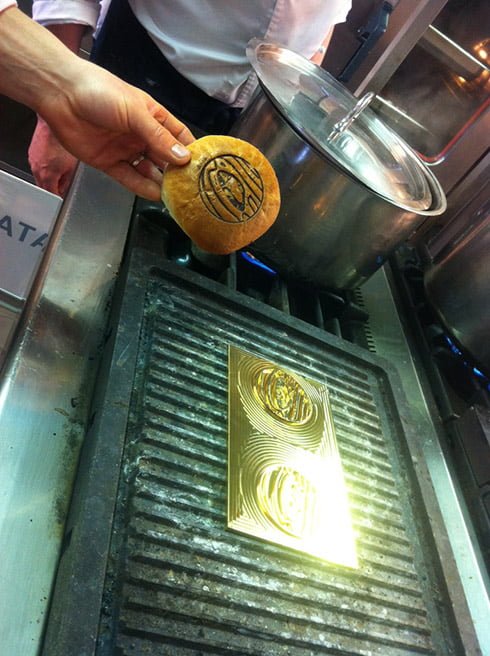 We've even created a signature meal for the restaurant.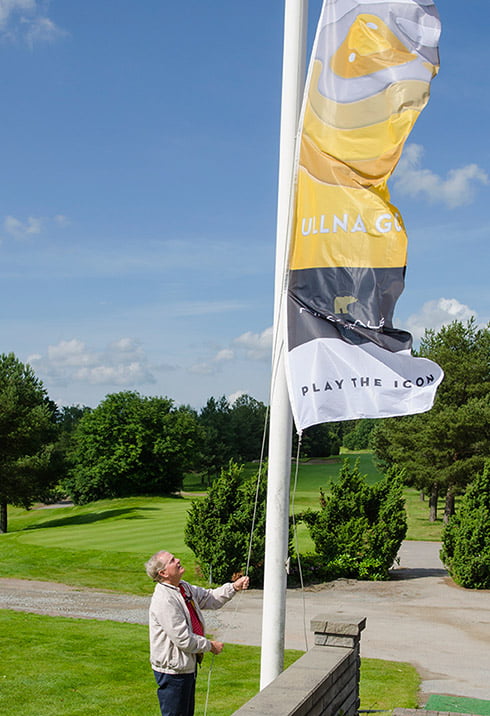 Jack Nicklaus himself raises the new Ullna Golf Club Flag.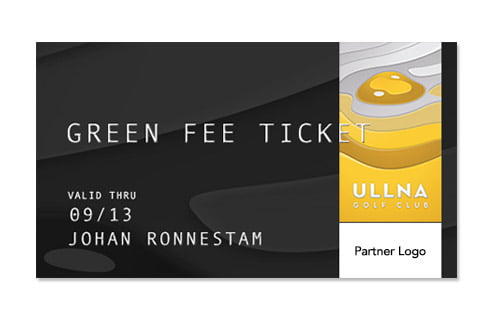 The green fee tickets.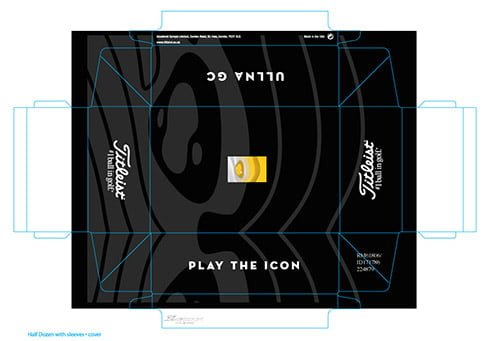 The golf ball packaging.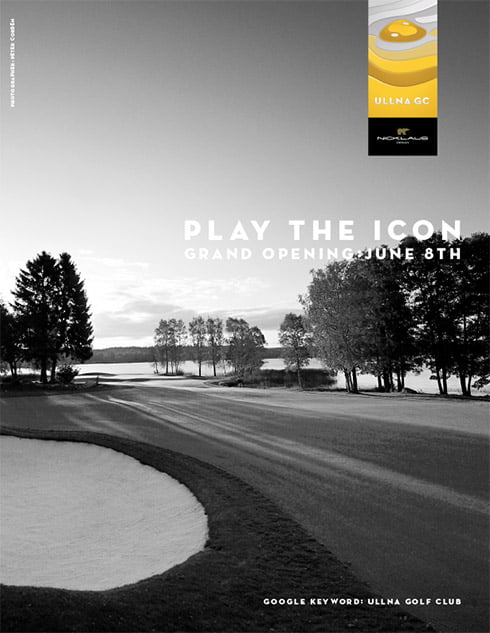 Advertising concepts for Ullna Golf Club.