What do you do when someone asks you to sign a non disclosure agreement and then asks you to spend the coming year planning, creating, implementing and launching a new Swedish bank?
Say yes of course!
This is where the story of the freshly launched brand Marginalen Bank starts. Together with recidivist Caroline Karlström I found myself 50% giggling like a child about the fact that we had secured the coolest and most complex project I've ever worked with while feeling 50% scared to death about the fact that this was that big ass project where you either succeed or you end up in a grave. Well, we did a fairly good job with Poseidon last year so why should this be any different? Little did I know what we had coming.
My main responsibility on the project that follows below has been:
Head of strategy – Develop the brand platform and the product positioning strategy
Creative direction – Creating, overseeing and keeping together everything that was produced and communicated in this project from a brand perspective.
Art direction – Designing visual brand components and overseeing the implementation of these.
Conceptual copy writing – Developing the brand vision and tonality
And some design here and there…where needed.
This project could never have been executed without my partner in crime – Caroline Karlström. In Sweden we have a saying "I vått och tort" – boy let me tell you she's been there for me and everyone involved in this project. Caroline did a lot of the planning including most of the interviews and then managed every little piece of the project…I ran of into the wild and she took care of the tigers.
September 2009 / The challenge – create a brand that stand the tests of time!
Marginalen was founded back 1979 and has since then primarily been a B2B brand with services like debt collection, business administration, legal support and a lot more with offices in Sweden, Lithuania, Latvia and the Netherlands. Since two years back they owned a bank called Bank2 and an online service offering real estate financing. Now, in my hand I held a confidentiality agreement in which I learned that Marginalen were aiming to buy Citibank's Swedish operation. If Marginalen succeed in taking over the Citibank private bank business Marginalen would have 6 month before every piece of communication going out from former Citibank should be re branded.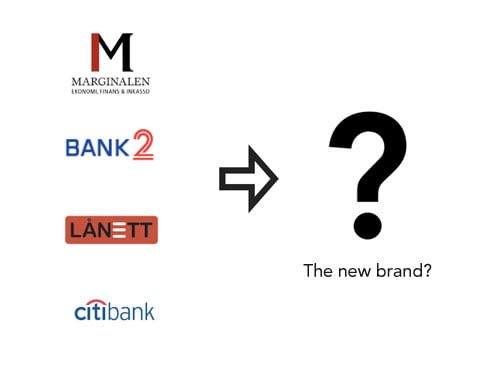 This was the challenge from a brand point of view

Ok, what had I just say yes to? We knew the deal with Citibank would be finalized sometime in April 2010. Before then we had to plan and create a strategy that could be executed in two ways depending on if the Citibank deal would go through or not, so back to the question: "Can you work out a brand strategy for Marginalen that tells us how to handle the old brands vs implementing the customer base of Citibank into our business, then create a new brand platform with accompanied visual brand guidelines, implement that platform both off and online and finally develop an advertising strategy and execute that?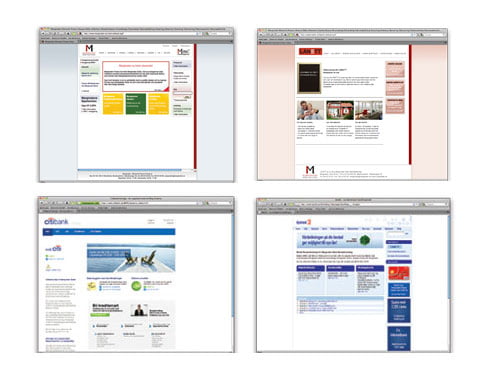 One of the biggest challenges was to develop a new design that were to replace the 4 existing brand sites and implement that in only 3.5 months.
In 12 month our task was:
4 brands to be brought together as one.
4 brand and bank sites to be rebuilt into one.
Create a new brand and brand platform.
Implement the new graphical guidelines on everything that communicates the brand.
Create an advertising platform.
Launch the god damn thing!
April 2010 / The solution – Let's build one bank and let's make sure people get we're not like other banks.
Following several interviews, meeting with the board, taking the international aspect into play and also the history of Marginalen we decided to build the brand – Marginalen Bank. This meant we'd scrap the two existing brands Bank2 and LånEtt. The main reason for going with one brand instead of three or two for was quite simple. We felt that building three separate brands would require far to much money and an even bigger problem was that it would require a very complex restructuring of the product portfolio and the organization that kept that portfolio intact.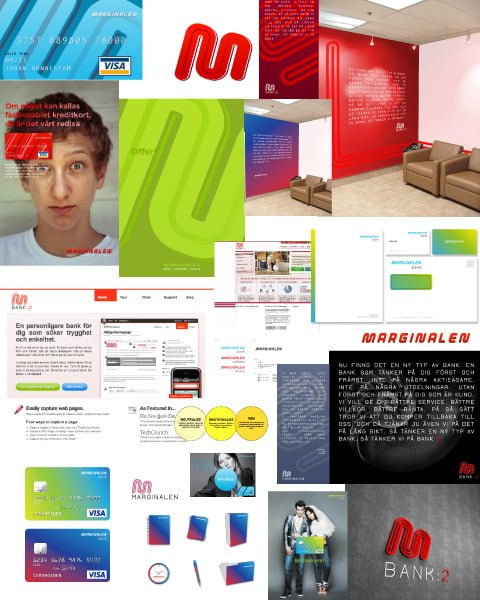 On our way to the final solution we opened a lot of doors in order to get a feel for the brands. These are just some of them
Sometime in June this year the project was getting ready to explode. Until then me and Caroline had handled both the strategic and the conceptual part of the project. This is how I usually work. Go in, work out a strategy using the NEW process that I've developed over the years with among others good friend Per Robert Öhlin.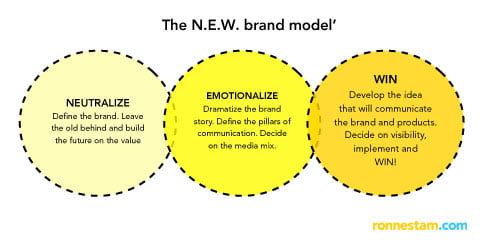 The three main stages of the N.E.W brand model
Prototyping carried us forward
As the strategy unfolds I tend to visualize it. And the aim with the visualization is to bring it close to final design and usually even a little bit further. I call this prototyping and I usually do that in the emotionalize phase. Prototyping means we can visualize the new or changed brand without taking realism into account. It's better for me, but It's even better for the client as their organization easier can let ideas through knowing it's only a prototype. This technique has been used by the car industry for ages, but also brands like Apple has together with IDEO used prototyping to push things forward.
Once the conceptual design and the prototype has been developed it's time to choose what and how to implement it. When we got to this stage in this project me and Caroline started to build a virtual communication house. Basically we established a virtual production house that could do what most large Swedish agencies could do…and a little bit more.
A virtual communication house
We had since some time back met with potential agencies and production houses. After bringing Marginalen Bank into the decision process we finally brought the following freelancers and agencies in to work with us: Per Robert Öhlin – Lead Copywriter, Visual ID led by Steve McDonald – graphical design, Nansen – web, Per Torberger – web copy, Hey People – print and banner production, Bizkit – media agency, Anders Freij – 3D/TVC production house and Andreas Westin – Illustrations. Once the virtual organization was set up me and Caroline led the team from both a creative and management perspective.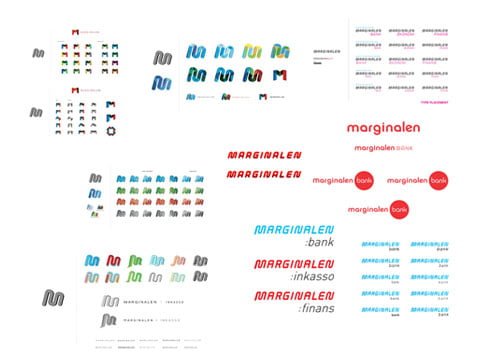 Very few of the logos we created during the free brainstorming process in order to find the future logo of Marginalen Bank
July 2010 / We've got a name and it's Marginalen Bank
Stop. It's a new logo!
Following many hours of bouncing logos back and fourth we finally had a first choice. This clean beauty (screen shot straight from the graphical guidelines showcasing how to place it) was a mix of the fonts Dessau Pro and Chalet from my favorite font maker House Industries with a lot of small adjustments. After I'd set this one on paper Steve from Visual ID fine tuned it and we had a winner.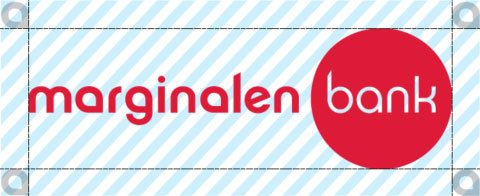 No. The blue stripes are not supposed to be there 😉
The result is a great logo that can stand the test of time. It also draws your eyes to the fact that this is a bank. Something that we believe is extremely good since bank safe and safe means people get ready to listen.
Creating and implementing the new graphical guidelines


Early in the process we introduced a gradient that became a clear brand marker. Something that we could dress different things in and thereby create strong recognition while keeping it flexible, timeless and modern.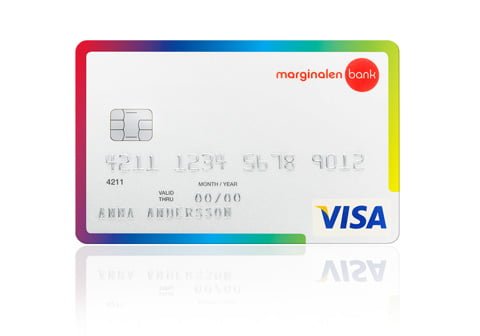 My goal has been to give every piece of communication a unique touch. Among other things we decided to go for white credit cards. It took some investigation before we finally ended up with a pigment that actually withstands dirt. But the final classic credit card is a beauty!





We've so far launched a traveller and a gold card as a complement to the white classic card.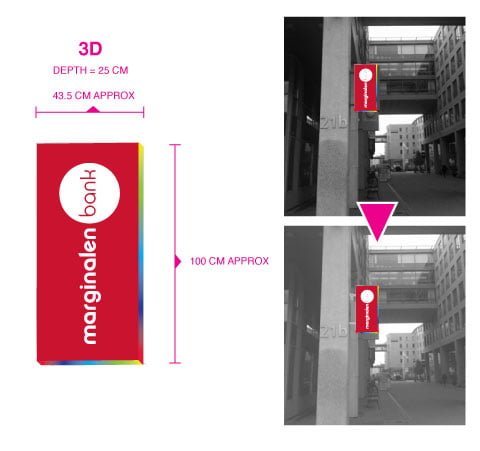 Signage was of course part of the job. This is one of many different versions.



Business cards coming to life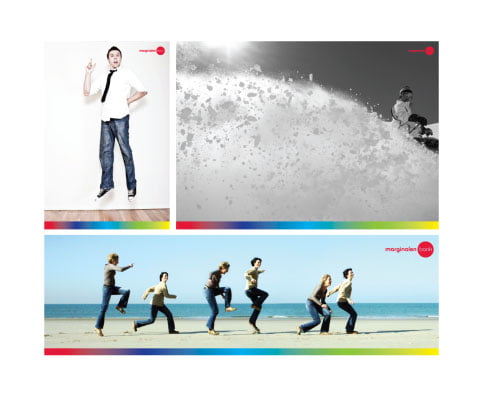 Examples of how to treat photography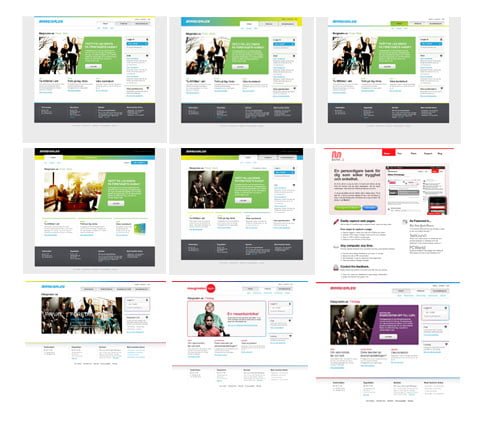 Several potential versions of the future website was developed before we finally decided on the design below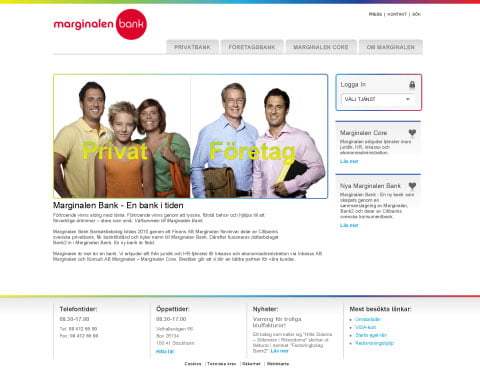 When the final designs were approved. We met with several web agencies and finally brought in Nansen as our production house. Right now we've focused on getting the site up. Next is changing how it works and why.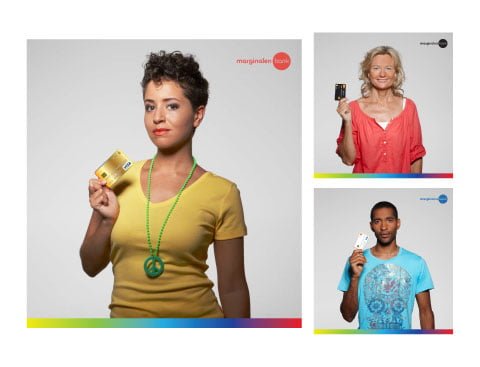 Some examples from the first photo shoot we did for Marginalen Bank this summer together with Bsmart.
August 2010 / The advertising strategy
Ok. How do you advertise a brand new bank? Try it yourselves. Say bank and await the reaction. Making people understand that Marginalen Bank is not like any other bank would require quite a lot of money and especially tons of guts. Luckily this was something that this company had. The owners of the company and the board early understood that we had to focus on building the brand. Marginalen Bank was in it for the long run so our advertising had to support that!
October 2010 The TV commercials
When this blog post goes live there's only one TVC that can be seen on television. However it's one of many to come and I believe we've really found a format that breaks through the noise. We've created a concept that rely on artful executions. This first TVC, written by me and Per Robert Öhlin has been produced by Anders Freij and illustrated by Andreas Westin. Andreas has hand drawn each and every scene in ink and then colored it with watercolors.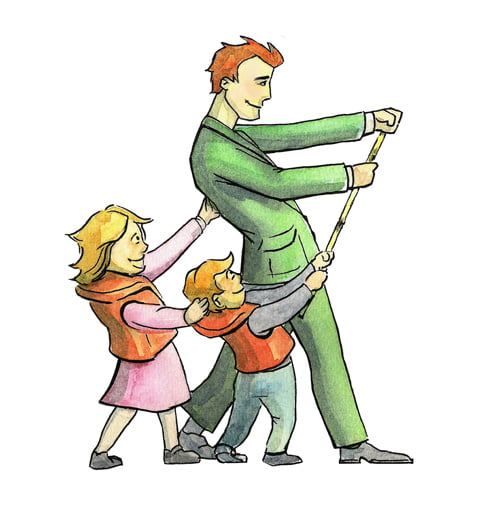 One of the first colorings of the family by Andreas Westin
It's then been cut out and brought into 3D where Anders and his crew has hand-animated each and every frame to give the commercial a hand crafted touch to it. It's been a time consuming process that never could have been executed with a regular production company as it would have cost way to much. Finally we've worked out the music together with Erik Häusler who has done a tremendous job composing a unique piece that will be used over time to create recognition and identification with the format and Marginalen Bank.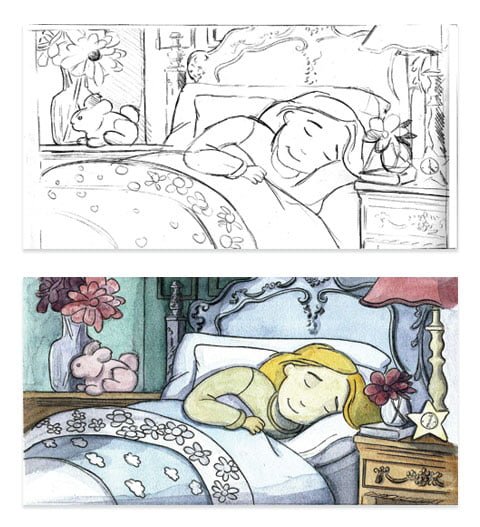 An early rough drawing from the storyboard compared to one of the final frames
When combining hand drawn illustrations with 3D you end up with a time consuming process. However, the results is a format that stands out from regular hand animated short films and 3D renderings as well. The advantages is that we're able to set light and movements in 3D and speed up the production process. The 35 second short film we've created for this first TVC was written, illustrated, painted and produced in 3D just under 5 weeks. Hand animating a piece like this would take up to 3 months. This enabled us to stick to this artistic format while working against the 'sick' time frame.

Building a brand with commercials like this leads to a much stronger brand over time, compared to if we would go straight for tactical advertising. However, we have to do just that, build it over time, which means we'll follow up with new commercials, made in new artful techniques in order to broaden the scope and earn a sweet little spot inside the hearts of people. Personally I'm very pleased with the results. This TVC will do the job and start building the attention we want for the new Marginalen Brand. But it's when we've broadcasted many more that the brand position will truly be established.
The print advertising
For this first campaign we're kicking of with extremely simple print ads. We have maximum focus on establishing the tone of voice while slowly getting people used to how our brand look. We've kicked of with a manifesto. This one will only run two times and it's targeted both internally and externally. We need to get that position out there.


Making people understand where we're heading
As you will see in the papers we seem to be running quite tactical ads. This however is a strategy where I felt it was extremely important to show parts of our product portfolio to make people see that Marginalen Bank is not just any small bank. Marginalen Bank already has a great deal of products and services. This is important to communicate. And that's why the ads look the way the do. Over time we'll integrate them tighter with the TVCs.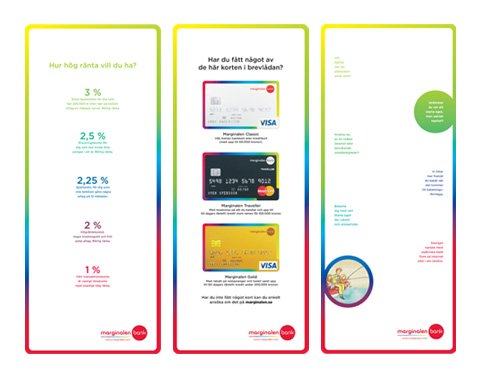 3 examples of ads showcasing savings accounts, bank cards and loans.
So there we are. It feels pretty darn nice to have gotten this baby elephant out of the zoo. And I'm looking forward to keep you updated on the progress. We're right now finalizing the implementation of the brand in house. We've also started do create TVC nr 2 and a print and outdoor campaign that will be more closely connected to the TVC.
This is the start. But now, when we've managed to get this brand kickstarted it's time to expand on all levels. But that's another story.
Now / Moving on from here
This is how I work. Strategy, concepts, creativity and helping my clients to establish virtual organizations so that I can move on to the next brand that want's to solve problems. I wish that I could finish this post of with a twist but…it's just to much and I really wanna push publish on this one cause it's time to build some brands.
Gotta run!